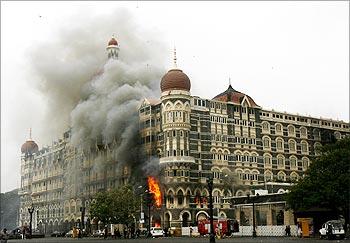 In a week it will be a year since the 26/11 terror attacks convulsed Mumbai, but for the survivors the blood-curdling moments of their lives are etched in their minds forever.
Thirty one-year-old Bhisham Mansukhani, one such survivor, who came face-to-face with death, feels he was lucky enough to have escaped the bullets of the four terrorists who turned Hotel Taj into a war zone for three days when time seemed to have come to a standstill.
"The memories of that day are still fresh in my mind as if it all happened yesterday. I am surprised how I escaped to see this day," says Mansukhani.
Recounting how the horror unfolded before him during the toughest 12 hours of his life, he said, "I was at the wedding of a friend when firing began. We took cover under tables and then sought refuge in a room waiting to be saved."
After no help arrived on the night of November 26, Mansukhani and others, who were huddled together in a room, mustered courage and tried to escape.
"One of the terrorists noticed the group and opened fire killing the man in front of me and forcing us beat a hasty retreat into the comparative safety of the room from where the NSG (National Security Guards) commandos ultimately rescued us," he said.
"I still cannot believe that I escaped death by a whisker. Though we all move on in life there are things which stay with you, these memories....good or bad."
Mansukhani, who was on the roof-top of the Taj Mahal Palace and Tower that ghastly night of November 26, said he had never even imagined that he would encounter terrorists one day in his life.
"It appeared like a battlefield along the border with bullets flying all over and grenades exploding at regular intervals. It was mayhem all around. These terrorists do not deserve to breathe on this earth," Mansukhani, who works as a freelance journalist, says.
Mansukhani has taken lessons from a city-based NGO on how to deal with disasters.
"I attended one of the seminars organized by an NGO. They train citizens on how to keep their calm and not panic during disasters like terror attacks and floods. This has helped me great deal to cope with the trauma," he said.
The freelancer intends to do a disaster management course in the near future.
Mansukhani also wants the on-going trial of 26/11 perpetrator Ajmal Kasab and other conspirators to be completed before the first anniversary of the attacks.
"The entire world saw how those cowards thirsted for blood," he said.
Mansukhani is upset over reinstatement of Nationalist Congress Party leader
R R Patil, who was state's home minister during the attacks. Patil, who had to quit for his remarks that in large cities a few incidents like 26/11 strikes did happen, has been made home minister in the third Congress-NCP dispensation in Maharashtra.
"The need of the hour is for accountable and responsible politicians to take charge. We all must vote for a right leader who can ensure safety and security of the citizens," he said.
"It was sad to see such a low voter turnout during the Lok Sabha and assembly elections. People do not have time to engage in the development of the country," he lamented.
"It is perhaps because the public memory is proverbially short. They forgot the 1993 Mumbai blasts and the 7/11 train blasts. They will forget even 26/11 some day," he said.
Image: Taj Mahal Hotel engulfed in smokes during the 26/11 terror strikes
Photograph: Arko Dutta / Reuters  Text: PTI