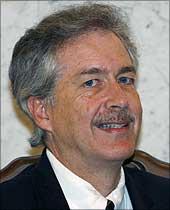 The Obama administration has said that too much is being read into the joint United States-China statement issued by President Barack Obama and Chinese leader Hu Jintao in Beijing. The statement had irked the Indian administration on the eve of Prime Minister Manmohan Singh's visit to the US, as New Delhi perceived it as an attempt to interfere in the bilateral relations between India and Pakistan.
However, Under Secretary of State for Political Affairs William Burns, informed of India's strong reaction against the statement by rediff.com, said, "It is too much reading into the statements."
India has been irked at the fact that there was no mention of India in President Obama's speech on Asia during his first trip to the region. The US-China joint statement appeared to convey the message that Washington and Beijing would now keep watch over the issues related to South Asia, including the differences between India and Pakistan.
 "First, and the clearest indication of the importance that President Obama attaches to our relationship with India is what I mentioned in my remarks -- the first State Visit of his (Obama's) presidency comes from Prime Minister Singh."
"Second, of course," he added, "the United States is interested in pursuing the best and healthiest possible partnership with China. But that doesn't come at the expense of other increasingly important partnerships, particularly our relationship with India".
Earlier, while delivering a speech at a conference on US-India Relations, organised by the Carnegie Endowment for International Peace, Burns had clarified that the Obama administration had no intentions of mediating between India and Pakistan.
He said, "Of course, we all share an interest in stability and peace between India and Pakistan. We all know the stakes. America has always supported the two countries' peace process and the resolution of outstanding disputes through dialogue."
However, "the pace, scope, and content of the peace process is for Indian and Pakistani leaders to decide," Burns said, and added, "But we have welcomed renewed engaged, including this past summer between Prime Ministers Singh and (Yousuf Raza) Gilani, and between Prime Minister Singh and President (Asif Ali) Zardari."
Burns argued, "The reference in the Joint Statement, the Joint US-China Statement with regard to common international concerns -- collective concerns -- about Afghanistan in particular, I think is a very straightforward expression of reality. We look to China, just as we look to India and many other countries in the world to contribute to stability in Afghanistan."
"And, as I said before, we welcome very much India's contribution in Afghanistan," he said.
The US-China joint statement, issued at the conclusion of talks between Obama and Hu,  stated that the two countries "support the efforts of Afghanistan and Pakistan to fight terrorism, maintain domestic stability and achieve sustainable economic and social development, and support the improvement and growth of relations between India and Pakistan."
It also said that Washington and Beijing stood ready "to strengthen communication, dialogue and cooperation on issues related to South Asia and work together to promote peace, stability, and development in that region."
The External Affairs Ministry, in a statement issued by its spokesman a day after the joint statement by Obama and Hu, declared, "The government of India is committed to resolving all outstanding issues with Pakistan through a peaceful bilateral dialogue in accordance with the Simla Agreement."
"A third country role cannot be envisaged nor is it necessary," it added, and taking a hefty swipe at Islamabad, asserted, "we also believe that a meaningful dialogue with Pakistan can take place only in an environment free from terror or the threat of war."
During his speech, Burns had noted that "few relationships will matter more to the course of human events in the 21st century than the partnership between India and the United States. India, as all of you know very well, it a rising global power, soon to be the world's most populous country, with a trillion dollar-plus economy."
 "The world's largest democracy, India is a powerful model for other emerging democracies, a model of tolerance and of strength in diversity," he said.
And making amends for President Obama's faux pas -- who failed to mention India in his speech during his much-hyped Asia trip -- the senior State Department official said, "India has an increasingly significant role to play on virtually all of the major challenges of this new century -- from global economic dislocation to energy security, climate change, the spread of weapons of mass destruction, and violent extremism."
"It's role in Asia, already significant," Burns predicted, "will only grow in the years ahead, and India will be an increasingly valuable partner in the historic effort to, as President Obama put it, 'cultivate spheres of cooperation' through Asia."
He declared that "a rising India is an essential part of the peaceful and prosperous world that the United States seeks in the 21st century, and our partnership is an essential ingredient for success."
But, during the interaction that followed his speech, when asked if the US would support India's bid for a permanent seat in the United Nations Security Council, Burns evaded a direct reply, saying, "The United States has been very clear in our support for reform and possible expansion of the Security Council."
He said, "That process is underway and we are in the process of consulting with a number of partners around the world and at the UN about that."
"In general, as I said in my remarks, India is obviously playing an increasingly influential and important role in global challenges, that's been reflected in the role that it has played over the past here in the G-20."
 "We certainly look forward to working with India on how we expand that role in a whole range of international institutions in the years ahead," he said.
But he refused to make a firm commitment on specific US support for a permanent seat for India in the UN Security Council.