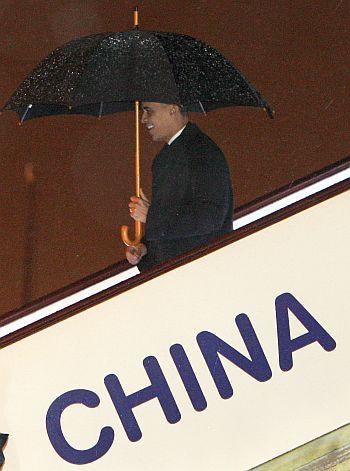 US President Barack Obama is in China on a three-day official visit that will be aimed at resetting bilateral ties and hoping to win China's support on issues ranging from climate change to sanctions against Iran.
Obama, who is on his first to China after becoming president in January this year, is hoping to navigate an increasingly complex relationship with a country that is the largest holder of US foreign debt and its second-largest trading partner.
He arrived in Shanghai late on Sunday after a flight from Singapore, where he attended the Asia-Pacific Economic Cooperation (APEC) summit.

Obama will on Monday hold a town hall-style meeting in Shanghai with several hundred local students. After Shanghai, he will head for Beijing for a two-day visit hosted by President Hu Jintao. He will also meet Premier Wen Jiabao and other senior officials.
Earlier in a speech on US policy towards Asia in Tokyo on Saturday, Obama said the United States welcomed China's rising political and economic clout, saying that the 'rise of a strong, prosperous China can be a source of strength for the community of nations'.
 
He said that Washington would not seek to contain China, but would work for a deeper relationship between the two countries without weakening other bilateral alliances.
Obama and Hu will inevitably face a number of sensitive issues when they meet for talks on Tuesday.
Trade tensions, an ongoing row over the value of the Chinese currency, the Yuan, and efforts to combat global warming are some of the many issues expected to come up.
Obama is expected to urge China to reconsider the value of the yuan, which has been pegged to the dollar since July 2008, when the global economic crisis hit export markets for Chinese-made goods.
Environmental activists are also hoping that Obama and Hu, whose countries are the world's top two emitters of greenhouse gases, will reach some kind of climate change deal before global talks in Copenhagen next month.
But that seems unlikely after Asia-Pacific leaders said in Singapore that they would not reach a binding pact in the Danish capital. Obama has also said he will raise human rights issues with Beijing.
Image: US President Barack Obama steps off Air Force One as he arrives at Pudong International Airport in Shanghai
Photograph: Jim Young/Reuters