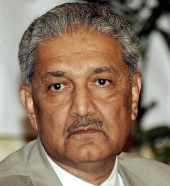 China provided Pakistan with a 'do-it-yourself' kit and weapons grade uranium for making two nuclear bombs in 1982, a leading American daily said on Friday quoting notes made by disgraced Pakistani scientist A Q Khan.

The Washington Post said the deliberate act of proliferation was part of a secret nuclear deal struck in 1976 between Chinese leader Mao Zedong and Pakistan's then Prime Minister Zulfiquar Ali Bhutto.

'Upon my personal request, the Chinese minister had gifted us 50 kg weapon-grade enriched uranium, enough for two weapons,' Khan wrote in a previously undisclosed 11-page narrative of the Pakistani bomb programme.

Khan prepared the notes for Pakistan's intelligence after his January 2004 detention for unauthorised nuclear commerce, the daily said.

The Post said it obtained Khan's detailed accounts from Simon Henderson, a former Financial Times journalist who is now a senior fellow at the Washington Institute for Near East Policy and who has maintained correspondence with Khan.

In a first-person account about his contacts with Khan in the September 20 edition of the Sunday Times, Henderson disclosed several excerpts from one of the documents.

According to Khan, the daily said, the uranium cargo came with a blueprint for a simple weapon that China had already tested, supplying a virtual do-it-yourself kit that significantly speeded Pakistan's bomb effort.
The transfer also started a chain of proliferation: US officials worry that Khan later shared related Chinese design information with Iran, in 2003, Libya confirmed obtaining it from Khan's clandestine network.
'The Chinese gave us drawings of the nuclear weapon, gave us 50 kg enriched uranium,' Khan said in a separate account sent to his wife several months earlier.
Khan said he and two other Pakistani officials -- including then-Foreign Secretary Agha Shahi, since deceased -- worked out the details when they traveled to Beijing later that year for Mao's funeral, the daily said.
'Over several days, Khan said, he briefed three top Chinese nuclear weapons officials -- Liu Wei, Li Jue and Jiang Shengjie -- on how the European-designed centrifuges could swiftly aid China's lagging uranium-enrichment programme. China's Foreign Ministry did not respond to questions about the officials' roles,' it said.
'Chinese experts started coming regularly to learn the whole technology' from Pakistan, Khan states, staying in a guesthouse built for them at his centrifuge research centre.
Pakistani experts were dispatched to Hanzhong in central China, where they helped 'put up a centrifuge plant', Khan said in an account he gave to his wife after coming under government pressure, the newspaper said.
'We sent 135 C-130 plane loads of machines, inverters, valves, flow meters, pressure gauges,' Khan wrote, according to the documents accessed by The Post.

'Our teams stayed there for weeks to help and their teams stayed here for weeks at a time,' he said.
In return, The Post said, China sent Pakistan 15 tons of uranium hexafluoride (UF6), a feedstock for Pakistan's centrifuges that Khan's colleagues were having difficulty producing on their own.
Khan said the gas enabled the laboratory to begin producing bomb-grade uranium in 1982.