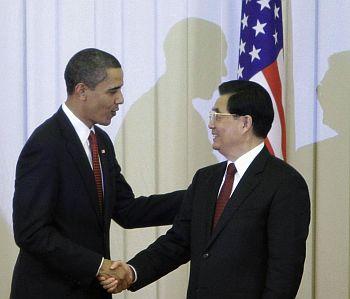 The US and China on Tuesday pledged support for improvement of Indo-Pak ties as President Barack Obama and his counterpart Hu Jintao vowed to strengthen cooperation on issues related to South Asia and other parts of the world, including combating terrorism, climate change and nuclear proliferation.
"The two sides welcomed efforts conducive to peace, stability and development in South Asia," said a joint statement issued after a marathon two-and-a-half-hour-long closed-door meeting between Obama and Hu at the ornate Great Hall of the People.
It said the two sides supported efforts of Afghanistan and Pakistan to fight terrorism, maintain domestic stability and achieve sustainable economic and social development.
They also pledged support for the improvement and growth of relations between India and Pakistan, the official Xinhua news agency reported quoting the statement, ahead of Prime Minister Manmohan Singh's meeting with Obama on November 24 in Washington.
The statement said the two sides also expressed readiness to strengthen communication, dialogue and cooperation on pressing issues facing South Asia and the world at large.
During the meeting, Obama, who is here on a maiden visit as President, also discussed the sensitive Tibet issue with Hu and sought early resumption of talks between China and representatives of the Dalai Lama.
"We did note that while we recognise that Tibet is part of the People's Republic of China, the United States supports the early resumption of dialogue" between the Dalai Lama's representatives and Beijing, Obama said after the talks at a joint press conference with Hu.
China, which has governed Tibet since its troops occupied the territory in the 1950s, has repeatedly accused 74-year-old Dalai Lama of leading a campaign to split the Himalayan region from the rest of the country.
Hu, on his part, urged the US to respect China's "core interests", a euphemism for ending support to Taiwan, which China claims as its province, and the Dalai Lama.
Obama also discussed at length issues like economy, trade, energy and climate change with the Chinese President. Both leaders described the Sino-US relations as "positive, cooperative and comprehensive."
Turning to climate change, the American President said the US and China -- the world top two emitters of green house gases --  favoured next month's climate change talks in Copenhagen to produce a global accord that has "immediate operational effect."
"We agreed to work toward a successful outcome in Copenhagen," Obama said. "Our aim there is... not a partial accord or a political declaration, but rather an accord that covers all the issues in the negotiations and one that has immediate operational effect."
"This kind of comprehensive agreement would be an important step forward in an effort to rally the world around a solution to our climate challenge," he said.  
Image: Obama and Hu Jintao shake hands after making a joint statement at the Great Hall of the People in Beijing.
Photograph: Jason Lee/Reuters