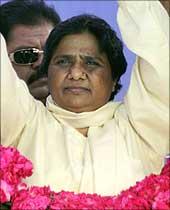 The Supreme Court on Friday rejected the plea of Uttar Pradesh Chief Minister Mayawati, who had sought permission to undertake maintenance and certain other works at the controversial Rs 2,600-crore Ambedkar site in Lucknow.
A bench of Justices H S Bedi and J M Panchal felt that there was 'no change of circumstances' to grant any such relief to the state government, which was earlier restrained by it from carrying out further activities at the site.
The apex court, however, said it would examine the plea on merits when the main matter related to the issue comes up on November 30. The state government had filed an urgent application, seeking the permission to go ahead with the maintenance work, on the plea that lakhs of people would be thronging the site on December 6, on the occasion of the birth anniversary of B R Ambedkar.
Senior counsel Abhishek Manu Singhvi, appearing for the petitioner, Mithilesh Kumar Singh and Gomti Nagar Sanstha, opposed any such relief on the ground that the state government cannot be trusted, as it had earlier violated the undertaking given by it to the Supreme Court that there would be no construction activities.
The apex court had earlier, by three separate orders, restrained all construction and maintenance activities at the site, where scores of memorials and statues of various Dalit icons and Mayawati were being constructed.