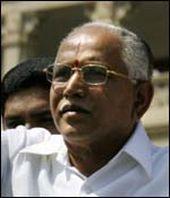 In yet another step to implement the truce deal with the dissidents to end the crisis in his government, Karnataka Chief Minister B S Yeddyurappa on Tuesday rescinded the transfer orders of some officials, two weeks after he had shunted them out to strike at the rebels gunning for his removal.
The latest move comes after V P Baligar, principal secretary to the chief minister, was shifted and Yeddyurappa's confidante Shobha Karandlaje resigned from the ministry, as part of the compromise formula worked out by the party leadership on Sunday to end the two weeklong impasse.
The earlier transfer of officials had angered the rebel leaders -- Tourism Minister Janardhana Reddy and Revenue Minister Karunakara Reddy and their close associate Health Minister B Sreeramulu -- who had stepped up their dissident activities, casting the shadow of instability over the first-ever the Bharatiya Janata Party government in the South.
Dr N V Prasad, a trusted Indian Administrative Service official of Sreeramulu, is back as deputy commissioner of Gadag.
Prasad was earlier transferred as chief executive officer of Dharwad Zilla Panchayat after differences between Yeddyurappa and the Reddy brothers and Sreeramulu widened.
B Shivappa, a confidant of Janardhana Reddy and Karunakara Reddy, has also returned to his earlier posting as deputy commissioner of Bellary. Yeddyurappa had moved him to Bidar.
Yeddyurappa also ordered for the transfer of Harsha Gupta as deputy commissioner of Shimoga, his home district, from Bellary from where the mining magnates Reddy brothers hail.
The chief minister, who managed to weather the worst-ever political crisis in the last 18 months since the BJP came to power, on Tuesday set out on a visit to temples to propitiate Gods. He offered pooja at Chamundeswari temple in Mysore, where he also participated in 'Chandika Homa' and at M M Hills in Chamarajanagara district.
Under the compromise formula, Yeddyurappa is also required to recast his ministry and re-allocate portfolio in the coming days, according to party sources.
Image: Karnataka Chief Minister B S Yeddyurappa