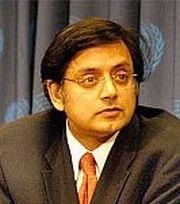 Minister of State for External Affairs Shashi Tharoor on Monday said the Tibetan spiritual leader Dalai Lama was visiting Tawang in Arunachal Pradesh on his own and that India had not suggested him to do so.
"This suggestion has not come from us, because we do not deal with the spiritual travels of a spiritual leader. He has to visit his flock as he deems fit. So I am sure that as far as I am aware the initiative would have come from him and the government would have been informed about it," Tharoor told mediapersons.
"No," Tharoor said, when asked if India had suggested to the Dalai Lama to visit Arunachal Pradesh.
"Dalai Lama is free to travel anywhere in India and it is a matter of courtesy to inform his coordinates to the government before he goes somewhere," he added.
On reports of the Maoists getting weapons from China, Tharoor said the home ministry was dealing into the matter and that it would be first left to that ministry to look into it.
"Only if there is a need for ministry of external affairs to get down into the issue, we will consider appropriate action," he added.
On the issue of business visas to Chinese, the minister said the Indian policy was to not issue business visas for unskilled or semi-skilled workers and that they should apply for employment visas instead.
"This is our national policy. Every country has a visa policy. If there is a good reason for these people to come and do certain kind of work, then we should cater for employment visas. It is not correct to say that business visas are much faster and we will apply for business visas (instead of employment visas)," Tharoor said.
Noting that India had been "very generous" with business visas, as about 58,500 of them were given (to Chinese) last year, he said, "We are just looking if these people, who got business visas are actually businessmen travelling to India to set up businesses or do businesses here.
"Some of these visas may have been issued to people, who are just unskilled or semi-skilled workers coming to India on what should have been employment visas," he added.
Tharoor said the home, external affairs and labour ministries were discussing with each other the possibility of offering employment visas to foreigners in skills which Indians lacked.
"We would certainly be hesitant to offer visas for employment to a foreigner for a job which could be done by an Indian in India. Where there are jobs for which no Indian is available for a particular kind of skill, we would certainly be open for others to come in. It will depend on a case-by-case basis. There are foreigners working in our country," he added.
Image: Minister of State for External Affairs Shashi Tharoor