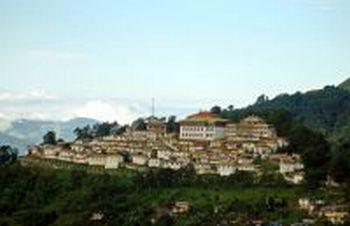 A grand public reception awaits Tibetan spiritual leader Dalai Lama in the bordering hill town of Tawang, Arunachal Pradesh, which is located at 10,000 feet from the mean sea level, with the entire town as well the 400-year-old Tawang Monastery wearing a festive look.
Buildings along the road leading to the town from the helipad, where the Tibetan spiritual leader will alight, have been painted afresh in different colours, while daryangs (religious flags) are being flown all over the place including the monastery.
It was in 2003 that the Dalai Lama had last visited the monastery.
In 1959, he had taken the route through Tawang to flee Chinese invasion in Tibet.
The Dalai Lama's proposed visit to the hill town in 2008 had been cancelled in view of general elections in the country.
According to a source in Tawang monastery, this time the visit of the Tibetan spiritual leader is for "primarily social and religious" purposes.
Soon after his arrival, the Dalai Lama will scheduled to offer prayers at the Tawang monastery on Sunday. In the afternoon, he will visit a school run by the monastery and will inaugurate a library, besides addressing the students.
The spiritual leader will also inaugurate a hospital in the hill-town on November 9 and will then preach from the "Yidghachoezin" (a place of worship), adjacent to a football ground in Tawang.
The spiritual leader had donated Rs 20 lakh toward the construction of the hospital.
Meanwhile, over 800 Buddhist monks from across India and Bhutan have arrived in Tawang to listen to the talks of their religious leader.
The Dalai Lama will also visit Bomdila, Dirang and Arunachal Pradesh capital Itanagar before departing via Guwahati on November 15.
Arunachal Pradesh Chief Minister Dorjee Khandu on Saturday visited the monastery and reviewed the preparations for hosting Dalai Lama.
Image: The Tawang Monastery