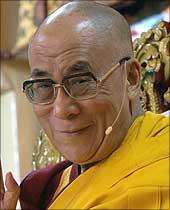 China on Tuesday unleashed a fresh attack on Tibetan spiritual leader Dalai Lama and needled India over his forthcoming visit to Arunachal Pradesh, saying it was a 'separatist' action and an anti-China move.
The Dalai Lama, currently in Japan, is scheduled to visit Tawang monastery in Arunachal Pradesh on November 8.
"We have expressed our grave concerns. We believe that this once again exposes the nature of the Dalai Lama as anti-China," Foreign Ministry spokesman Ma Zhaoxu said in Beijing.
"We firmly oppose the visits of the Dalai Lama to the border regions. This is a separatist action," he said.
Ma's statement came days after the Dalai Lama said he was surprised and saddened by China's criticism of his visit to Tawang monastery.
"I was surprised at China's criticism. If my visit creates problem, I am very sad, that's all," the 74-year-old Tibetan leader said in Tokyo.
"The Chinese government politicises the issue, wherever I go. Where I go is not political," the 1989 Nobel Peace Prize winner said.
Contending that he was traveling to Arunachal to teach his beliefs, the Dalai said Tawang held great memories for him, as it was his first stop 50 years ago when he was forced to flee Tibet.
India and China were recently engaged in a verbal spat over Dalai Lama's proposed visit to Arunachal, over which China lays claim.
China had strongly objected to the Dalai's visit, but India rejected the objection, saying the Tibetan leader was free to travel anywhere in India.
However, New Delhi has made it clear that the Dalai Lama is not supposed to indulge in any political activities in India.
Prime Minister Manmohan Singh, who met Chinese Premier Wen Jiabao in October on the sidelines of the ASEAN summit in Thailand, had explained India's stand on the exiled Tibetan spiritual leader to his Chinese counterpart.
Dr Singh had told Wen that the Tibetan spiritual leader was an 'honoured guest' of India but the Tibetan refugees were not permitted to engage in any political activities.
The Dalai Lama is scheduled to visit the Tawang monastery to deliver a spiritual discourse to his followers and also to dedicate a new hospital, built in part with funds donated by him.
Although branded as a separatist who is trying to split Tibet away from Chinese rule, the Dalai Lama insists that he is seeking genuine autonomy, not outright independence, for his Himalayan homeland.