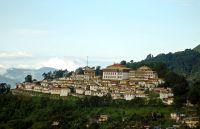 The recent reports of incursions and firing along the India-China border has not deterred spirited tourists who have begun thronging the Buddhist monastary town of Tawang in Arunachal Pradesh, over which China stakes claim.
The high altitude town is along the Line of Actual Control.
An official source in Tawang said tourists had already started flocking the picturesque monastery town near Sino-India border at over 14,000 ft above sea level, while hotels were being flooded with booking requests.
Meanwhile, contrary to media reports that movement of traffic has been restricted along the Bhalukpung-Tawang road that connects the monastery town to Assam and rest of the country, the Arunachal Pradesh government has clarified that there has not been any such restriction.
Media reports had said that the traffic had been restricted on the road to facilitate movement of heavy army vehicles to Tawang. October-November is the peak tourist season for Tawang.
It starts snowing in December, and the entire town gets covered under a sheet of snow from December to March every year. Tourists flock the place to visit the Buddhist monasteries, some of which date back to 4th century.
The local Monpa tribe, which survives on agricultural activities and animal husbandry, looks forward to the tourist season when they earn money by working for the tourists in different ways.
Over 40,000 people – mostly Buddhists -- live in Tawang district, spread over an area of about 2,085 sqkm.
The Tibetan spiritual leader Dalai Lama passed through Tawang in 1959 while fleeing Tibet, when it was under attack from the Chinese Army.
Image: An aerial view of Tawang monastries | Photograph: Utpal Baruah/ Reuters