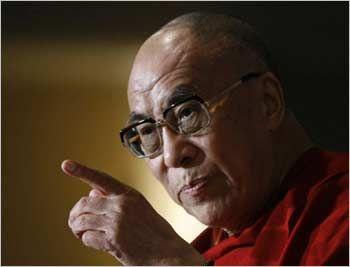 As he prepared to visit Arunachal Pradesh, China's official media on Friday launched another attack on the exiled Tibetan spiritual leader Dalai Lama, calling him a "lair" accusing him of aiming to split China and disrupt the development of Tibet.
Criticising as 'nonsense', the Dalai Lama's reported statement that 'there exists fear in Tibet', the People's Daily -- the mouthpiece of the ruling Communist Party -- said it only showed that the Tibetan "spiritual" leader was pursuing a hidden agenda to split China.
'This nonsense only reveals the hollowness and self-deceiving gimmicks deep inside the lama's heart. As an economically thriving Tibet had drawn increasing attention from the world, the Dalai Lama could only see his hidden scheme to disrupt China's unity gradually falling apart,' it said.
The Dalai Lama, currently in Japan, is scheduled to visit Tawang monastery in Arunachal Pradesh on November 8 on what he has said is a spiritual, and not political, trip. China has asked India to stop the 74-year-old Tibetan monk from visiting Arunachal.
'There exists fear in Tibet -- the nonsense shows the Dalai Lama is still telling lies. The Dalai Lama hates to see a unified and harmonious new Tibet. During the past 50 years, great changes have taken place in Tibet, and people are now enjoying rising amenities,' it said.
Citing progress in Tibet, it noted that under Chinese rule, the feudal serfdom system has been abolished there, and the basis for Dalai's 'dream to rule Tibet again had long been destroyed'.

'The great changes in Tibet reveal a great truth: if there was no Communist Party of China, there was no People's Republic of China, let alone new Tibet,' the editorial said.
It noted that 50 years have passed since the 14th Dalai Lama fled abroad (to India). During that period, the Dalai Lama claimed himself to be a 'religious leader', but engaged himself in many political events aiming at splitting China and disrupting the development of Tibet.
'There are sufficient facts to show that the Dalai Lama is nothing but a liar,' it added.
The article came two days after China accused the Dalai Lama of trying to 'damage' Sino-India ties and called his forthcoming visit to Arunachal Pradesh a 'separatist' action.
'China's stance on the eastern section of the China-India border (Arunachal Pradesh) is consistent, and we firmly oppose the Dalai Lama's visit to the region,' Foreign Ministry spokesman Ma Zhaoxu said on Tuesday.
The Dalai Lama's planned Arunachal visit 'further exposes the Dalai clique's anti-China and separatist nature', he said.
Ma also alleged that the Dalai Lama keeps on lying and is being engaged in damaging relations between China and other countries, but his attempt 'will not succeed', he said.
Image: The Dalai Lama, the Tibetan spiritual leader
Photograph: Kim Kyung-Hoon/Reuters