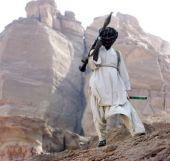 Pakistan Parliament's National Security Committee has asked the government to rake up the issue of India's "alleged involvement in fanning insurgency" inside the country at all national and international forums, including the United Nations.
According to sources, Interior Minister Rehman Malik -- during a closed-door meeting with the committee members -- tabled evidence regarding alleged New Delhi's involvement in terror activities in the country, especially in the North West Frontier Province and Balochistan.
The committee, chaired by Senator Raza Rabbani, directed the Gilani government to raise the issue with the UN and NATO, and also expressed concerns over the activities of private US security firms operating inside Pakistan's territory.
The committee, comprising senators and MNAs of all parliamentary groups, recommended setting up of a national counter-terrorism authority to analyse and assess reasons for rapid spread of terrorism and to suggest ways of eliminating it.
'The committee also expressed its concern over NATO forces vacating border checkposts after Pakistan started a military offensive against the militants in South Waziristan,' The Daily Times quoted sources privy to the meeting, as saying.
Interacting with media persons after the meeting, Rabbani said the committee may summon Foreign Minister Shah Mehmood Qureshi to brief it about the steps taken to counter the internal security threat with an emphasis on external involvement. 
Foreign Office spokesperson Abdul Basit too indicated that the "Pakistan government had found enough evidence" regarding India's involvement in terror activities inside its territory.
Basit reiterated that a large quantity of Indian-made arms and ammunitions were recovered during search and combing operations in South Waziristan, where the Army is engaged in an intense battle with the Taliban.
'There exist evidences in South Waziristan, which speak volumes of Indian involvement in prevailing uprising and insurgency in the agency,' The Nation quoted Basit, as saying.
It may be recalled that during a joint press conference with the Inter-Services Public Relations (ISPR) Director General Major Athar Abbas on Tuesday, Information Minister Qamar Zaman Kaira had said that Islamabad had found 'concrete evidence' regarding New Delhi's role in fanning insurgency in South Waziristan, the Taliban's stronghold.
India subsequently raised strong objections to Kaira's remarks, with External Affairs Minister S M Krishna saying that New Delhi had nothing to do with Pakistan's internal matters.
"We have absolutely nothing to do with whatever is happening in Balochistan or whatever is happening within Pakistan. I think it is their own making," Krishna had said.