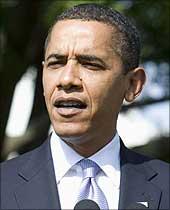 US President Barack Obama would hold his sixth Situation Room meeting with his national security team on Monday to discuss his administrations strategy on Afghanistan and Pakistan.
The meeting at the White House will be attended by Secretary of State Hillary Clinton, Defence Secretary Robert Gates, National Security Advisor General (retired) James Jones, Deputy NSA Tom Donilon, John Brennan, Assistant to thePresident for Counterterrorism and Homeland Security and Rahm Emanuel, the White House Chief of Staff.
Vice President, Joe Biden, who is in Europe would join the meeting through video conference. Unlike previous five meetings – each one of which lasted for more than three hours – Monday's meeting is scheduled to last about 75 minutes only.
Also Obama would be discussing the issue only with a small group of half-a-dozen people, unlike previous occasions which was over 16 including the US Ambassadors to Afghanistan and Pakistan. The Special US Representative for Pakistan and Afghanistan, Richard Holbrooke, is a notable absentee to this crucial meeting.

The Situation Room meeting is part of the overall objective of Obama – as stated by the White House – to find the "right strategy" which works in Afghanistan and Pakistan. At least one of these meetings was devoted exclusively to Pakistan.
One of the important issue on the table of Obama is to take a call on the request of General Stanley McChrystal – Commander of the US and NATO forces in Afghanistan – on sending more than 40,000 US troops to Afghanistan.
Afghan President Hamid Karzai and his main rival Abdullah Abdullah, in separate interviews to US news channels supported the report and sought more US troops to Afghanistan.
The Opposition Republican party leaders too are supporting the McChrystal report and have accused Obama of dangerously delaying the decision on sending more troops to Afghanistan.
"Having announced his Afghanistan strategy in March, President Obama now seems afraid to make a decision and unable to provide his commander on the ground with the troops he needs to complete the mission. "The White House must stop dithering while America's armed forces are in danger," former Vice President Dick Cheney, had alleged last week.
Image: US President Barack Obama