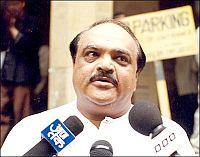 Stating that the Nationalist Congress Party won't join the Congress-led government in Maharashtra till the issue of portfolio sharing was resolved, deputy chief minister Chhagan Bhujbal on Tuesday said his party is ready to extend outside support to the new government till then.
"Efforts to resolve the differences on portfolio allocation are on and we expect a positive result in a day or two. But people of the state want that the new government be formed immediately as it is 11 days since poll results were announced," Bhujbal told mediapersons.
"Congress should take the initiative to form the government. We are ready to give them support from outside but will join the ministry with honour after portfolio sharing issues is resolved," he said, after meeting Governor S C Jamir.
Jamir held separate meetings with caretaker Chief Minister Ashok Chavan and Bhujbal at Raj Bhavan. "We support Congress. Let them give a letter to the Governor (for staking claim to form the government), we will also give a letter (of support to the Governor)," Bhujbal said.
Though assembly election results were announced on October 22 and the new house come into being the next day, the new government is yet to be sworn-in, a Vidhan Bhawan official said pointing out that the term of the outgoing house ends on Tuesday. NCP wants the same arrangement to continue as has been the case during the last 10 years of the Congress-NCP regime, Bhujbal said.
Image: Maharshtra Deputy CM designate Chagan Bhujbal