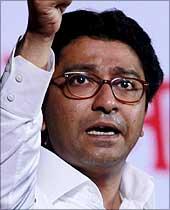 Within 10 days of being elected to the state assembly, the Maharashtra Navnirman Sena has already begun to make its presence felt even before entering the House.
In a press conference addressed by MNS President Raj Thackeray and 12 of his MLAs on Monday, the party announced that it would force all the elected representatives across all parties to take the oath to the Maharashtra Legislative Assembly in Marathi only, and that those who do not opt for Marathi will have to face the MNS' fury.
"They (MNS MLAs) will create a furore in the House if the elected representatives take their oaths in any other language except Marathi," Thackeray said.
The party made a debut in the Maharashtra assembly elections this year and won 13 seats.
Ramesh Wanjale, the MNS' elected representative from Khadakwasala who is known for the heavy gold jewellery he wears echoed his leader's opinion. Wanjale told rediff.com that the party would not let the elected representatives of other parties to "use any other language except Marathi when taking the oath of office".
However, he assured that the Maharashtra assembly house would not witness scenes that were seen in Bihar and Uttar Pradesh, "where elected representatives throwing chairs and mikes at each other is a common practice".
At the same time, he cautioned, the MNS will not adopt "Gandhigiri" to make its point clear.
"We will adopt the Raj Thackeray style," Wanjale declared.
When asked about the almost 2-kg gold that he was adorining in his neck and hands, Wanjale said he would remove it all when he entered the legislative assembly, as his party president had directed him to.
Speaking to rediff.com, MNS legislator from Ghatkopar (West) Ram Kadam, who defeated BJP's Poonam Mahajan in a prestigious contest in the assembly elections, said not allowing other MLAs take their oath of office in non-Marathi languages is not a non-issue for the Marathi manoos or the MNS.
"The Marathi manoos can lay down his life for self-respect and the use of Marathi language is a matter of self-respect for the 8-crore Maharashtra population," he said.
Image: MNS chief Raj Thackeray