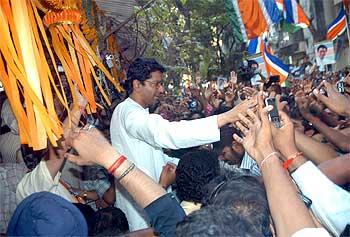 "My brand of politics will work", thundered Raj Thackeray after his Maharashtra Navnirman Sena romped home with an impressive 13 seats in the first Assembly polls the party contested.
The verdict points that the Marathi Manoos politics worked, he said on Thursday, addressing mediapersons.     
Stressing that no party in the state can ignore his party, the firebrand leader said the Shiv Sena had not raised serious issues in the polls, leading to the alliance debacle.
The Congress failed, but the Opposition failed even more," Raj said when asked why voters did not punish the ruling alliance, despite bad performance in the last 10 years.
"This is what I had been saying all along. You (Shiv Sena-BJP) had 110 MLAs in the house. You should have acted as a parallel government but you did not get things done," Raj said.
"The Opposition parties did not inspire confidence among voters about their ability to rule", he said.
About Sena and BJP's accusation that MNS dented into their (voters') base, leading to Congress victory, Raj said, "How long they would keep whining? They (Sena-BJP) must do introspection. Besides, my candidates have won too."
"I am very happy with the 13 seats. My party will act as an effective Opposition. All lost candidates will go back to respective constituencies and work for the people," said Raj.
Image: Jubilant MNS workers swarm Raj Thackeray with congratulatory bouquets at his residence in Mumbai.
Photograph: Arun Patil
Text: PTI & Agencies