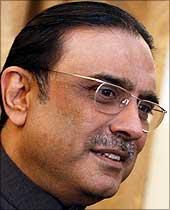 A political storm appeared to be brewing in Pakistan on Monday with Asif Ali Zardari's ally Muttahida Qaumi Movement asking him to quit over a controversial law that allowed the President to return home in 2007 by scrapping graft cases and Pakistan Muslim League-Nawaz leader Nawaz Sharif threatening to challenge the legislation in court.
In a day of fast-paced developments, MQM's London-based chief Altaf Hussain said Zardari should be "prepared to make major sacrifices" to save Pakistan's democratic system.
His remarks came hours before parliament was to take up the issue of endorsing the National Reconciliation Ordinance, a law passed by former military ruler Pervez Musharraf to grant immunity to former Premier Benazir Bhutto and Zardari in graft cases.
Senior Muttahida Qaumi Movement leader Mohammad Anwar told reporters that Hussain had sent a message to Zardari through a minister of the ruling Pakistan People's Party, advising that he should resign to save the democratic system.
There is a danger of democracy being derailed if Zardari did not act swiftly, Anwar said.
"If he (Zardari) reads the writing on the wall, he should realise he is under immense pressure," said Anwar.
The MQM believes that supporting the NRO in parliament would be tantamount to "legitimising corruption".
Shortly after Hussain's views became public, PML-N chief and former premier Nawaz Sharif told a news conference that his party would challenge the NRO in court if it is endorsed by parliament.  
"We ask the government not to bring the law to parliament as it will damage Pakistani politics and shake the people's confidence in democracy. The NRO is not in Pakistan's interest and we will make no compromise in our efforts to oppose it," Sharif said.
Sharif pledged that the PML-N would vote against the NRO in parliament and mobilise the people to oppose it.
"The NRO is a black law that will weaken democratic institutions. Don't test the opposition, parliament, democracy and the people. We will play our role in this test," he said.
Under a ruling given by the Supreme Court on July 31, the NRO has to be endorsed by parliament within four months.
Musharraf passed the NRO, which granted immunity in graft cases only to Pakistan Peoples Party leaders, to ensure that the PPP did not boycott elections held in October 2007 that led to his re-election while still in military uniform.
The PPP kept up a brave face despite today's adverse developments and party spokeswoman Fauzia Wahab said the NRO would be brought before parliament in the next few days.
In another significant development, army chief Gen Ashfaq Parvez Kayani met Prime Minister Yousuf Raza Gilani on Monday afternoon.
There was no official word on the meeting though sources said they had discussed the latest political developments.
Gilani would meet Zardari, who is also co-chairman of the PPP, later in the day, sources said.
Image: Pakistan President Asif Ali Zardari