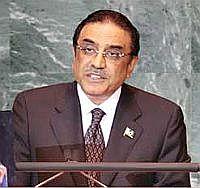 Pakistan President Asif Ali Zardari has decided to surrender his presidential powers related to the dissolution of assemblies and the appointment of services chiefs to Prime Minister Yousuf Raza Gilani.
Federal Information Minister Qamar Zaman Kaira told a private television channel that Zardari met Gilani at the Presidency and discussed several issues pertaining to the current security and political scenario of the country.
Kaira said it was during this meeting that the president decided to hand over some of his responsibilities to parliament.
Replying to a question, Kaira said both Zardari and Pakistan Mulsim League-Nawaz chief Nawaz Sharif have agreed to prepare a draft of constitutional amendments in light of the Charter of Democracy.
According to the sources, Zardari told Gilani that the Parliamentary Committee on Constitutional Reforms has been asked to expedite its task for drafting the constitutional reforms.
It was also decided that the Prime Minister would take the coalition partners of the government into confidence over the constitutional reforms so that it could be presented in the coming session of the National Assembly, which is scheduled to commence from November 2, The News reports.
Image: Pakistan President Asif Ali Zardari