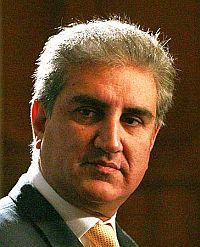 Warning that terrorists wanted to sabotage the Indo-Pak peace process, Pakistan on Sunday said the two countries should not allow extremists to dictate terms to them.
Stating that Pakistan was committed not to allow its soil to be used for acts of terrorism against any country, Pakistan Foreign Minister Shah Mehmood Qureshi said India should reciprocate its positive gestures to effectively fight terror.
The peace process has been put on hold by India since last year's Mumbai terror attacks. India has linked Pakistan's actions against terrorists to resuming the composite dialogue.
"We continue to strongly believe that the terrorists are out there to sabotage the peace process between Pakistan and India... Our two countries should not be driven and dictated by them," Qureshi told Malaysian news agency Bernama in an interview.
Qureshi, who is in Kuala Lumpur for a meet of the Group of Eight Developing Islamic Countries beginning on Monday, said terrorism was a common challenge requiring a joint response.
"As you know, Pakistan is fighting terrorism in its own interest. At the same time, we fully understand that in order to deal with terrorism and militancy, regional cooperation is a sine qua non," he said.
He later told mediapersons that forces had surrounded the key South Waziristan region, choking the Taliban militants in their stronghold, as it hopes to establish its foothold in the area before the winter sets in next month.
Qureshi said the Taliban were in 'disarray' and 'on retreat' in the face of sustained offensive by the military. "Many important towns, many important locations in South Waziristan have been taken over by the Pakistan army and quite a few militants have been eliminated as well as arrested," he said in Kuala Lumpur, expressing confidence that the Pakistan army may achieve its objective before the winter sets in the region.
"The leadership that was located in South Waziristan is on the run. They are in retreat and there is a disarray over there," he said. Pakistan launched a major military operation in the region bordering Afghanistan on October 17, sending over 30,000 troops in operation 'Rah-e Nijat'(Path to Salvation).
"We are moving ahead with determination, with resolve... And this is a completely different threat, so you need time. But I think our soldiers and our officers have adapted very quickly," he said.
"And it seems as things are going on right now that we might be able to do so," he said. Qureshi said the Pakistani government was very clear that it wants peace and stability in the country. "We have got to ensure peace and stability in Afghanistan as well. There is a linkage between the two. You cannot ignore one and have peace on the other side," he said.
He said the offensive had been successful and the resistance they had expected initially had not come with the same stiffness as expected.
He said Pakistan and the United States had the 'shared objective' to eliminate elements who have created havoc in Pakistan and are potentially dangerous for peace and stability.
Image: Pakistan Foreign Minister Shah Mehmood Qureshi