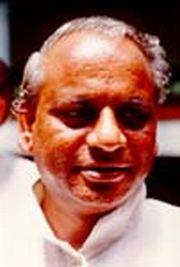 Notwithstanding Bharatiya Janata Party president Nitin Gadkari's reported view that certain leaders who quit should return to the party fold, former Uttar Pradesh chief minister Kalyan Singh is going ahead and completing formalities for launching his new political party next month.
"We have applied for registration of the new party and submitted all relevant papers to the Election Commission yesterday (Thursday) and would be formally launching it here on January 5," Singh said.
"My supporters from all over the state in a series of meetings held in the past one month have been firm on launching the new party and this also is my final decision," he said, setting at rest speculation on his return to the BJP.
"There is no question of my joining any other party and this is the final decision," he said, adding that from now onwards, he would be working independently for strengthening his party.
On Gadkari's reported remarks that all party stalwarts who quit should return, Singh said that from his side there was no proposal to return to his parent party.
The former BJP stalwart also refused to comment on leadership change in the saffron party, saying Gadkari has taken over just recently and it would be "too early to comment on him".
He, however, claimed that the future of BJP in Uttar Pradesh was "bleak" and that it would not be able to gain strength in the coming 15 years.
"For the next 15 years, the BJP has no future in Uttar Pradesh for various reasons," he said without elaborating.
Singh also saw a bleak future for the Samajwadi Party, which, he claimed, would not be able to win back the trust of Muslims it had managed to gain to emerge as the major player in the state politics.
"The Samajwadi Party gained strength when Muslims rallied behind it because of the growing influence of the BJP in UP at that time, but with a weakened BJP, Mulayam Singh Yadav cannot survive for long," he said, adding Muslims today have also found an alternative in the "rejuvenated" Congress and it being in power at the Centre also has its advantage.
Singh had floated a party in 1999 after quitting the BJP for the first time, but had merged it with the BJP in 2004.
He again quit the BJP this year and joined hands with the Samajwadi Party only to part ways with it after the latter's debacle in the Lok Sabha polls.
Image: Kalyan Singh