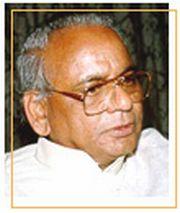 Within 24 hours of being dumped by Samajwadi Party chief Mulayam Singh Yadav, veteran Bhartiya Janata Party rebel Kalyan Singh seems desperate to get a re-entry into the saffron brigade.
Kalyan, who had twice revolted against the BJP earlier and had not minced words in flaying its ideology and policies, was once again ready to sing peans for the party, while condemning the foe-turned-friend-turned-foe Mulayam as a "selfish opportunist".
While Mulayam announced at a press conference here on Saturday that he neither inducted Kalyan Singh into his party, and nor would he do so ever in the future, Kalyan Singh too made it loud and clear to mediapersons here on Sunday that "neither did I ever accept Mulayam's offer to join his party, nor will I ever do so ".
Kalyan, who had shot into international spotlight as allegedly the man who bought about the demolition of the 16th century Babri Masjid, had left no stone unturned to cast himself in a different mould over the past 11 months that he spent in Mulayam's camp, and spinning around the state as SP's star campaigner.
Mulayam's decision to say goodbye to Kalyan Singh is understood to have followed the humiliating defeat faced by his daughter-in-law Dimple Yadav against Congress nominee Raj Babbar at the Agra Lok Sabha bypoll last week.
The SP chief, who had reposed much hope in Kalyan's potential to garner the Lodh Rajput votes for Dimple, was left high-and-dry with the latter losing by a whopping margin of 85,000 votes.
After reacting to Mulayam's remarks, Kalyan promptly got back to eulogising the BJP, the Rashtriya Swayamsevak Sangh and also the Ram temple issue.
"I am all for construction of the Ram temple at Ayodhya and would be a happy to see it being built in my lifetime," he said.
"No party other than the BJP could ensure the construction of the temple," he said.
He went on to further emphasise the role of BJP saying, "Earlier, when he had pulled me into the SP, Mulayam had declared that he had done so only to weaken the BJP. Today, I express my deep regret for it, but I am ready to make up for it and get down to strengthening the forces of Hindutva, which is the only hope for this country."
"I am still a member of the RSS, which has always upheld the cause of Hindutva."
Even as he denied having any talks with RSS chief Mohan Bhagwat, Kalyan did make it a point to praise the latter.
"There is a need to strengthen Hindu forces and I am ready to offer my services for that," he added.
Lamenting his 11-month long stint with Mulayam, the BJP turncoat said, "I must confess that I failed to see the opportunist in him and fell into his trap, whereby he managed to exploit me for to meet his political ends."
Kalyan claimed, "Had it not been for my active involvement in the SP campaign, Mulayam would have never got 23 seats in the Lok Sabha; in fact, he would have been unable to take his tally beyond 14 seats. I can clearly attribute at least nine of the seats to my involvement in the campaign."
According to Kalyan, "SP leaders also provided me a helicopter to campaign for their party and at their subsequent convention in Agra. Mulayam went to the extent of placing his party's red cap on my head, and himself raised slogans of 'Kalyan Singh zindabad' in my honour".
"Even Jaya Prada could not have won without my active support. But for me, Azam Khan would have defeated her badly."
Reacting to Mulayam's announcement that he would "never induct Kalyan into SP", Kalyan said, "Let me tell you all that I never went to meet Mulayam, it was he who, along with Amar Singh, came to my home both in New Delhi and in Lucknow, and repeatedly urged me to join his party. But I refused to do so."
"Mulayam and Amar Singh's visit to my son Rajvir's home in Delhi on January 18, 2009, was widely covered by the media. Likewise was their visit to my Lucknow residence on January 21 and 22 when they came to escort both me and my son to their party office", he said.
"When I declined their offer to join the SP, they requested me to allow Rajvir join their party, and promptly gave him the status of national general secretary," he added.
Kalyan said he regretted for taking such a long time to understand Mulayam's  "selfish designs".
"For that mater, the Congress proved to be more sensible in recognising Mulayam's true colours well in time, and thereby distanced itself from the untrustworthy SP leader," he quipped.
Image: Kalyan Singh