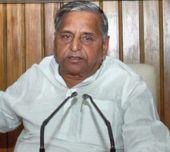 It may be a little late in the day, but Samajwadi Party supremo Mulayam Singh Yadav had apparently realised the futility of shaking hands with his one time sworn political foe and Bhartiya Janata Party rebel, Kalyan Singh.

Mulayam, who had struck a alliance with Kalyan apparently in the hope of building a new backward axis in a caste-ridden Uttar Pradesh, had finally decided to dump the latter.

"Kalyan Singh was never a part of Samajwadi Party, nor is he one today; and let me also tell you that he would never be allowed to join our party," Mulayam told a crowded press conference in Lucknow.

And as if to emphasise that he really meant business, Mulayam repeated the sentence thrice at the hour-long press conference. Yet, at the same time, he was unwilling to pass the entire blame to Kalyan for the reverses SP had suffered during the recent state assembly by-elections.

When a scribe sought to know how far he held Kalyan responsible for his party's rout in this month's bypoll, Mulayam preferred to train his guns at the Congress and shot back, "Well, for that matter, we have suffered more on account of other so-called friends, whose government we went all out to save."

Unlike the past when he would insist on defending his party's association with Kalyan, who openly went about campaigning with him at the last state assembly elections in 2007, Mulayam was busy finding one alibi or the other to say good-bye to the foe-turned friend.

When a scribe sought to suggest that his bonhomie with Kalyan was responsible for alienating the Muslim community -- where Kalyan was seen only as the man who brought the demolition of 16th century Babri Mosque -- Mulayam was quick to against hit back at the Congress once again.

"Why don't you people see how the Congress party ushered in people like Sanjay Nirupam, who were responsible for unleashing the worst kind of violence against Muslims," he asked.

Asked whether he would continue to keep Kalyan Singh's son Rajvir Singh in Samajwadi Party, he lobbed a counter query, "Why didn't you all raise this question when I made him and Kalyan's Singh's close associate Kusum Rai ministers in my government?"

While conceding the party's debacle at the bypoll in which his party failed to win a single of the 11 state assembly seats, and his daughter-in- law Dimple lost the prestigious Firozabad Lok Sabha seat to his own party detractor-turned-Congressman Raj Babbar, the SP supremo declared, "You will see us springing back with a full majority at the next election."