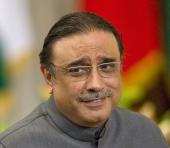 Pakistan President Asif Ali Zardari has said that certain hidden forces are conspiring against democracy and the government in the country.
Addressing a meeting of the Pakistan People's Party in Karachi, Zardari said some people were aware of the conspiracies against the Government and asserted that his party will take all decisions according to Pakistan's Constitution.
"Whether these decisions are related to the Supreme Court of Pakistan, programme for the rights of Balochistan or National Finance Commission Award, these will be taken within the ambit of the Constitution," The News quoted Zardari, as saying.
"We are the political party which gave the 1973 Constitution to Pakistan. We have continued our struggle for a long time within the boundaries of law. We will also keep alive the legacy of democracy in a democratic way," he added.
Talking to mediapersons after the meeting, Sindh Information Minister Shazia Marri said Zardari had vowed to tackle all the non-issues aimed at diverting the focus of the government from implementing democracy-friendly policies.
The minister also said the PPP has a track record of respecting the court's judgments of the courts.
"We have always respected the institutions. We can differ with an individual's opinion or statement, but would not differ with an institution. We never did it in the past nor we will set any such tradition in future," Marri said.
Image: Paskistan President Asif Ali Zardari