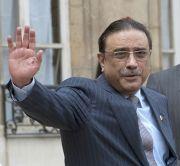 Pakistani President Asif Ali Zardari is under tremendous pressure from different quarters to step down, which probably is the reason why he handed over the 'nuclear button' to Prime Minister Yousuf Raza Gilani, but analysts believe Zardari has tightened his clutch on the presidency for the time being.
While the opposition has been vehemently targeting Zardari, the army too is unhappy with Zardari's concession to the US and his 'soft stance' on India, and is working behind the curtain against the president.
However, the military does not want to indulge in a 'messy or illegitimate change of government', The Washington Post reports.
Army experts pointed out that the armed forces are dependent heavily on the US for arms and ammunitions and spare parts to continue its offensive against the Taliban, and thus ill afford maligning Zardari's image in order to bring him down.
"The army is heavily dependent on U.S. spare parts and equipment to wage its current air war against the Taliban and cannot afford to sabotage Zardari's ties with Washington just as US officials are calling for a new "strategic relationship" with Pakistan," the newspaper quoted experts, as saying.
"For Zardari to go, there has to be a definite push from somewhere, and it usually comes from Rawalpindi, the city where army headquarters is located," said Ayaz Amir, a political commentator and a Pakistan Muslim League-Nawaz legislator.
"I don't see that catalyst coming on the horizon," added Amir.
Moreover, embattled Zardari has responded to the attacks remarkably lashing out at his political rivals and criticising a certain section of media for seeking to dethrone him.
He even forced blackout of a television show, whose host had targeted the presidency quite often in the recent past.
The newspaper also highlighted that Zardari has found an unlikely "lifeline" from his longtime rival, Nawaz Sharif, who recently said his party would not work to destabilise the civilian government.
In a recent television interview, Sharif had said that his party does not support mid-term polls or the power-sharing formula.
"Time is running out for democracy in Pakistan," the Pakistan Muslim League-Nawaz chief had warned.
But speculations are that Sharif is biding his time and waiting for Zardari's 'self destruction' before running for the presidency.
Image: Pakistani President Asif Ali Zardari