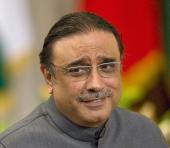 Intense political pressure has forced the ruling Pakistan People's Party to abandon a move to get the parliament to endorse a controversial law, which scrapped graft cases against President Asif Ali Zardari, raising questions about his future.
Following a meeting of senior PPP leaders chaired by Zardari and Prime Minister Yousuf Raza Gilani, the party announced late on Monday night that it would not ask the parliament to validate the National Reconciliation Ordinance, issued by former military ruler Pervez Musharraf in 2007, to grant immunity in corruption cases to PPP leaders.
Presidential spokesman Farhatullah Babar said the meeting "decided not to take the NRO to the Parliament."
The meeting also endorsed the position taken in parliament on Monday by Gilani, who had vowed to save the democratic system and continue his policy of consensus and reconciliation.
The PPP's move came after some leaders of the Muttahida Qaumi Movement, an ally of the ruling party, said that their party chief Altaf Hussain had advised Zardari to resign to save democracy. Main opposition party Pakistan Muslim League-N chief Nawaz Sharif had threatened to launch nationwide protests if the NRO was endorsed by the parliament.
MQM chief Hussain later changed his position, apparently due to pressure from the PPP, but the damage was already done. He claimed he had not given any advice to Zardari to resign and said the MQM would decide on the NRO in accordance with the aspirations of the people.
Under a ruling given by Pakistan's Supreme Court on July 31, the NRO has to be endorsed by the parliament within four months. Musharraf issued the NRO to ensure that the PPP did not boycott the presidential polls held in October 2007 that led to his re-election while still in military uniform.
If the NRO is not ratified by the Parliament within the specified period, it will lapse and the corruption cases scrapped under it can be reopened. Leading lawyer and senior PPP leader Aitzaz Ahsan has said the law will lapse if it is not endorsed by the parliament. He added that the Supreme Court could strike down the law even if it is ratified by the parliament.
The PML-N, which did not benefit from the NRO, has consistently opposed the law. In recent days, several other parties, including allies of the PPP, have indicated they will not back the NRO if it is presented before the National Assembly or the lower house of the parliament.
Presidential spokesman Babar said the PPP decided not to present the NRO in parliament after consulting its coalition partners.
In his address to parliament on Monday after Opposition lawmakers walked out of the House on the issue of the NRO, Gilani urged political parties not to take any steps that would harm democracy.
"I assure the House, the Opposition and the people (that nothing will be done) that harms democracy, the parliament and the system," he said.