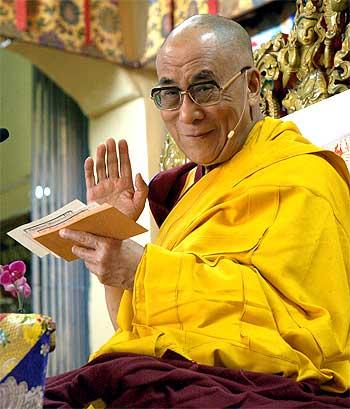 Hundreds of medical experts were at their wit's end when Tibetan spiritual leader the Dalai Lama asked them point blank, "Do you give your patients true happiness?"
The Dalai Lama was invited by the Indian Society of Neurology and Neuro-Sciences to deliver a special lecture on 'Neuro Sciences and Ancient Indian Buddhist Thought' at the Sanjay Gandhi Postgraduate Institute of Medical Science (SGPGIMS in Lucknow on Thursday.
Emphasising that physical fitness and mental happiness were supplementary to each other, Dalai Lama said, "Remember, negative emotions like anger or hatred devour into your immune system. Therefore, positive approach coupled with meditation is the key to success."
The Dalai Lama, who has to his credit at least 72 books on neuro-sciences, quizzed them with a series of queries on "life after death".
"Can you answer what happens when a person dies?" he asked.
He once again left the galaxy of doctors at UP's leading medical research school in a tizzy when he sough to know, "What happens to a person's brain and body?"
And in the same vein he went on to cite some strange cases. "We are aware of some cases  where the bodies of certain Buddhist monks remained fresh even for weeks after they were declared dead", he said.
He added, "In yet another case in the United States, where a scientist wired up a body, electric signals were detected for quite some time even after the person had died; in another case a physically weak monk's body not only remained fresh but also gained strength a couple of days after death."
And everyone looked dumb-founded when he raised the question, "Do you have an answer to this?"
He said, "Research, backed with investigation, could bring out a reply to these unanswered questions."
Describing himself as a "son and messenger of India", he called upon Indian religious leaders to step out of their four walls and narrow confines to spread the universal values of secularism, non-violence and love that was deeply endowed in the Indian ethos."
"India's spiritual leaders are superior to me. The messenger in me is actively propagating Indian values and it was now time that the spiritual personalities here got down to spreading the Indian message across the globe," he added.
Praising Indian values and knowledge, the Dalai Lama said, "India's talent and knowledge was second to none. Your democracy is a fascinating example of your inner strength. See for example even the Leader of the Opposition LK Advani tells me that secularism was India's biggest strength."
On the relationship between science and religion, he said, "Science doesn't distinguish between religions. That's why one needs to have a scientific temper."
Prof Raj Kumar, one of SGPGI's leading neuro-surgeons described the Tibetan spiritual leader as "perhaps the most knowledgeable person on neurosciences.