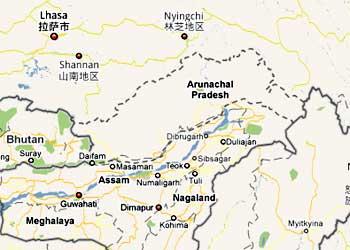 Does Arunachal Pradesh belong to India or not? There can be no two answers to this question.
Unless, of course, you happen to look for Arunachal Pradesh on Google Maps. Strangely, the site has three statuses for India's 24th state.
It is shown as an Indian state in Google Maps's Indian site, http://maps.google.co.in, but strangely, when you visit Google Maps's Chinese site, http://ditu.google.com, the state of Arunachal Pradesh doesn't exist at all, subsumed as it is into the People's Republic of China.
Google, which has announced ambitious plans for India, has a vapid explanation to offer: What is on the sites is consistent with their stand that on national sites they will show what the country demands, and that on the international site they show disputed territory.
For the record, this is what they say: 'It is Google's standard practice to show all disputed regions around the world on its global properties, such as on maps.google.com. It has been Google's consistent and global policy to depict disputed regions as per the claims made by the disputing/claiming nations on its global properties. 
'This does not in any way endorse or affirm the position taken by any side but merely provides complete information on the prevailing geo-political situation to our users of global properties in a dispassionate and accurate manner. Products that have been localized to the local domain of a region such as maps.google.co.in may depict that country's position as per the mandate of their local laws.'
In other words, what you see on Google Maps's India site is what India wants; what you see on Google Maps's China site is what China wants. So what does Google believe in?
For that, you should visit their international site, http://maps.google.com, which shows what is the truth according to it (image alongside). It clearly shows Arunachal Pradesh as a disputed territory.
Individuals in possession of an inaccurate map of India have in the past been charged under Section 124A of the Indian Penal Code that deals with sedition. Surprisingly, in this case, the Government of India has maintained a studied silence.