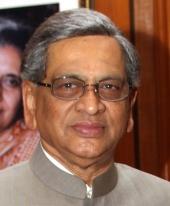 The Centre on Wednesday washed its hands off the decision to stop work along the Sino-Indian border in Jammu and Kashmir after the Chinese' protest, saying it had no role in either starting or halting the project and that it was entirely the state government's affair.
External Affairs Minister S M Krishna told the Lok Sabha that the Centre was not consulted on the road project and that it had come to know of it only through the media. "The Government of India had no role to play in starting the road project or halting (it). It was fully a decision which the Jammu and Kashmir government took," he said replying to a short-duration discussion on the relations with China in the backdrop of recent occurrences.
The work on a road project in Demchok in Ladakh region was stopped recently after China objected to it. Krishna said India wanted good neighbourly relations with China and had tried to "defuse" issues related to incursions, as it did not want to "enlarge the differences" into major differences.
He expressed the hope that India would be able to contain the incursions, while noting that these took place due to differing perceptions about the undemarcated boundary line.
"We do not have a crisis of confidence.... We have confidence and China understands our concerns," Krishna said, adding that both countries needed to have "forward-looking approach in bilateral relations, which can be done only in an atmosphere of trust and mutual respect".
To press the point of assertiveness, the minister underlined that there was a vast difference between the 1962 and 2009.
"India has undergone a sea change. India is strong in every aspect of the term. We cannot be browbeaten by anybody. We are in a position to tackle however powerful the enemy is," he insisted.
Making clear India's unhappiness over China's recent decision to issue visas on a separate sheet of paper instead of passports to Kashmiris, Krishna said India cannot compromise on its visa policy and China "must understand and respect" it.
"They (Chinese) suddenly cannot introduce a new system of white paper... Anything that is not stamped on Indian passport will not be treated as a valid visa to go out or come in (of the country)," he said, adding only a strong country can take such decisions.
Talking about Sino-India relations of the last 60 years, he said the two countries have had "good ties" and "at times strained relations".
He said, "History had something to convey to us and we should humbly take note of whatever shortcomings there are. You are calling them mistakes, I call them shortcomings."
"As a mature country, we should take due note of whatever happened in the five decades or more," Krishna said.
"Relations with China get very high priority in our strategic thinking," he said, adding that, "We value China's friendship and association. We will like to take it to certain strategic level."
The minister said India wanted to develop its ties with China on the basis of equality with each country being sensitive to the concerns of the other. Noting that both India and China were being seen as major powers of the 21st Century, he said, "the two Asian giants" should strive to deepen cordial and friendly ties".
"The prime minister has conveyed to the Chinese leadership that the differences should not be allowed to affect functional cooperation in other areas and peace and tranquility needs to be maintained," Krishna said.
He said the relations between the two countries had improved in various areas, including business and defence. He said the contact in the defence field had increased and the third defence cooperation dialogue would be held next month for better understanding of the two armed forces.
President Pratibha Patil will be visiting Beijing next year, he said, adding that he would travel to China next year when the two countries would celebrate 60 years of bilateral relations. In the economic field, he said India was pressing China for greater access of its market for goods and services and Beijing has assured that it will address these concerns.
Image: External Affairs Minister S M Krishna