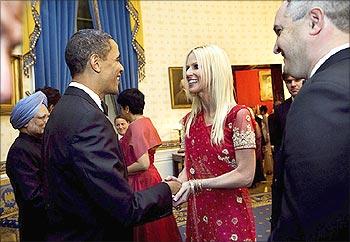 A Congressional committee has moved ahead with the process to issue subpoenas for Tareq and Michele Salahi, after the Virginia refused to turn up for testimony before the House Committee on Homeland Security.
"The Salahis chose to forego participation in today's proceedings with the full knowledge that the committee could compel their testimony through subpoenas," Congressman Bennie Thompson, chairman of the Committee said.
Thompson said he has directed staff to prepare subpoenas for the Salahis and "this committee will consider them next week".
"Once the machinery of the Congressional subpoena authority is activated, if Salahis continue to rebuff this committee's oversight request, they could be subject to contempts of the Congress," Thompson said at the end of the hearing.
He had convened the hearing to discuss the issue of the Virginia couple attending the State dinner at the White House last week, despite they not having any invite.
"My door remains open and I'm hopefully that they will be as willing to talk to the Congress as they have been to talk to the media," a disappointed Thompson said at the end of the hearing wherein the Salahis did not turn up for testify before the Congressional Committee.
On November 30, the committee invited Tareq and Michaele Salahi to testify at today's hearing.
"We sent the invitation to secure their firsthand accounts of the Secret Service's protocol on the evening of November 24. We need this testimony to ascertain the extent of the security breakdowns from the perspective individuals who were active participants in those breakdowns," Thompson noted.
At the same time, the Committee chairman shot down a Republican move to issue subpoena to Desiree Rogers, the White House social secretary, who was also asked to testify before it.
Citing separation of power, the White House did not allow her to testify before the Committee.
Meanwhile, the secret service agents who let Salahis inside the White House have been placed under administrative leave, said Director of Secret Service Mark Sullivan.
"Right now, the individuals who've been identified have been put on administrative leave... But I will tell you that we are going to look at this, we're going to find out what the culpability was and we'll take the appropriate action," he said.
Appearing before the House Committee for Homeland Security, Sullivan termed it a human error when Salahis were allowed to enter the White House without any invitation.
"I mean, pure and simple, this is a human error. We could have had the best technology; we could have had all the funding that we'd ever want, but this still would not have prevented this from happening," he said.
Image: The Salahis meet US President Barack Obama at the White House State dinner on November 24.