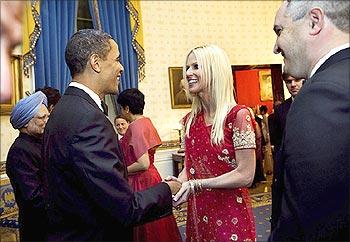 A United States Congressional committee on security will summon the Secret Service chief and the Virginia couple who gate crashed into President Barack Obama's first state dinner, to testify before it on the breach of security at the White House.
The House Committee on Homeland Security will hold a hearing on Thursday, in which they will hear testimonies of aspiring reality TV stars Tareq and Michaele Salahi, who managed to gate-crash into the state dinner, hosted in honour of Prime Minister Manmohan Singh on November 24.
This was announced by Committee Chairman Bennie G Thompson, who ordered a full committee hearing on the episode that raised question marks over the President's security.
The committee, which oversees the Secret Service, "plans to invite testimony from (Tareq) and (Michaele) Salahi, who managed to attend portions of the State Dinner without proper White House and Secret Service clearance, and Secret Service Director Mark Sullivan, who is responsible for the safety of Secret Service protectees and the plans his agency develops and implements to secure them," Thompson said.
The hearing will focus on the breakdown in security arrangements on the evening, deficiencies in security planning leading up to the state dinner, actions taken to correct the vulnerabilities and identify any violations of Secret Service. "This is a time for answers, recognition of security deficiencies past and present, and remedies to ensure that the strength of the Secret Service and the safety of those under its protection," Thompson said.
"This is not the time for political games or scape-goating to distract our attention from the careful oversight we must apply to the Secret Service and its mission," he said.
Image: US President Barack Obama greets Michaele Salahi and her husband Tareq during a state dinner for Prime Minister Manmohan Singh at the White House | Photograph: Reuters