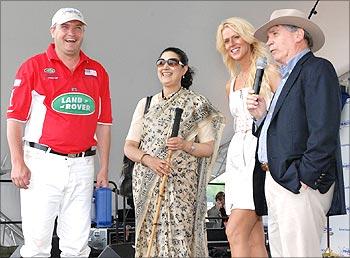 Last week's state dinner at the White House for the Indian prime minister had two unexpected guests: Washington, DC socialites and reality television hopefuls Michaele and Tareq Salahi, wine and polo promoters from Virginia.
Though their names did not feature on the star-studded guest-list, the couple breezed by security, posed for photos and entered the White House lower hallway, where they mingled with guests, including US Vice President Joseph Biden, on the red carpet, before heading up to the cocktail reception in the East Room.
Michaele, a model-thin blonde, was decked out in a red-and-gold sari, which she wore backwards. Right after the event, the couple posted photographs of themselves at the event on social networking site Facebook.
The couple has been auditioning for a possible role in a reality television show, The Real Housewives of Washington, and probably thought the publicity from the incident would clinch themselves a spot. An embarrassed White House has admitted the Salahis were not invited nor were seated for dinner at the event, but claimed that both President Barack Obama and Indian Prime Minister Manmohan Singh were not in any danger, as the couple was still screened by security before entering. The White House has reportedly asked the secret service for a 'full review' of how the couple got into the state dinner.
The couple is reportedly close to ABSi Corporation CEO Rajeev Sharma and his wife Seema, who are also well-known in the world of polo. ABSi Corporation sponsored the American Polo Cup Event between Australia and US, held at the Capitol Polo Club in Maryland, on May 8-9.
Indian ambassador to US Meera Shankar also attended the event. The Sharmas are organising America's Polo Cup World Championships, set to be held on June 11-12 in 2010, where India is the challenger.
The Salahis have become overnight celebrities and have been invited as guests on the Larry King Live Show on Friday night.
 
Incidentally, the morning after the dinner, there was a second security lapse, as journalists and their equipment were reportedly allowed into Singh's media conference without X-ray checks, sending India's Special Protection Group -- in charge of the prime minister's security -- into a tizzy.
Journalists were made to leave and were properly checked before re-entering, while the conference room itself was screened thoroughly as well.
Image: Tareq Salahi (in red T-shirt) with wife Michaele and envoy to US Meera Shankar at a polo event in May.