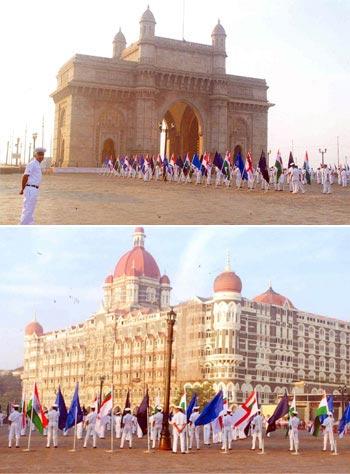 A Navy band practices robustly for the Beating Retreat ceremony, which will be held on Thursday and Friday at the Gateway of India, Mumbai, as part of the city's Navy Week celebrations.
The jaunty tunes of the Navy drums and trumpets created a poignant but heartening sound on the chilly December morning.
Last year, Navy Week celebrations were cancelled in the wake of the 26/11 terror attack on Mumbai, and the Gateway of India was cordoned off.
The Taj Mahal Hotel, the iconic structure facing the Gateway, was one of the sites targeted by the terrorists and the hotel had witnessed a 60-hour bloody siege.
For weeks after the carnage, the area surrounding Gateway, usually bustling with enthusiastic tourists, had worn a sad, hushed look. Candles, bouquets, wreaths and flowers, silently remembering the dead, could be spotted everywhere.
The Gateway, a favourite spot for New Year's Eve celebrations for people from across the metropolis, had remained cordoned off and forbidden to the public even on December 31 last year.
A year later, the reconstruction of the Taj Mahal Palace and Tower is slowly nearing completion. Parts of the hotel and some of its popular restaurants, damaged by the attack and subsequent gun-battle between terrorists and the National Security Guard, have already been reopened. Many of the guests, who were trapped inside the hotel or held hostage by the terrorists during the siege, have returned to mark their solidarity with the victims and hotel staff.
A week after the anniversary of the 26/11 carnage, the Gateway and the Taj Mahal hotel today form the gracious backdrop to the splendour and pomp of the Navy Week celebrations.
Photographs: Raj Kumar Jaiswal