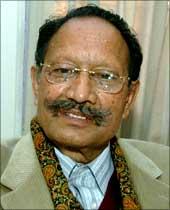 Already faced with an unprecedented turmoil in the party, the Bharatiya Janata Party now has to contend with yet another dissenter, as former Uttarakhand Chief Minister B C Khanduri has also raised questions about the recent actions of the party.
In a letter to BJP chief Rajnath Singh, Khanduri reportedly sought to know why he was held responsible for the poor performance of the party in Uttarakhand and subsequently removed from the CM's post.
According to a report, Khanduri has sought to know why he was ousted despite enjoying the support of 27 MLAs in the state assembly, 
Expressing unhappiness over the BJP's loss in the recent Lok Sabha elections, Khanduri has asked why only chief ministers are being held responsible for the party's defeat in the elections.
He has questioned why the leaders at the central level of the party are not being held responsible for the party's drubbing in the recent Parliamentary elections.
"Whatever is happening in the BJP is unfortunate," said Khanduri, who was made to quit as chief minister of Uttarakhand after his party lost in all the five Lok Sabha seats in the state.
Singh, however, declined to make any comments about the letter. "I have nothing to say on Khanduri's letter to me," he said in Delhi.
Khanduri said that whatever was happening in the party right now 'is a cause of concern'.
"Keeping in view the BJP's record, its discipline, love for the country and people's faith in the party, whatever is happening right now is a cause of concern," he said, and added, "I pray to God that the party regains its past glory and people's faith be restored in it, like in the past," he said.
The senior BJP leader had on Tuesday dubbed as 'unusual and uncalled for' the hue and cry in the party over its poor performance in the Lok Sabha polls and said the party should have gone into the reasons behind its defeat before removing him.
"But this was not done," rued Khanduri, who became the first victim after the party's dismal performance in the general elections.
Khanduri said the atmosphere of hopelessness after the party's poor performance in Lok Sabha polls was uncalled for. "It is not that the party has been ruined. It has secured 116 seats in the Lok Sabha this time. The position of Congress in 1996 was worse," he pointed out
Asked why he was not invited for the BJP's 'Chintan Bhaithak' in Shimla, Khanduri said, "It is not an issue. The issue is that before taking any action, views of all concerned should be elicited."