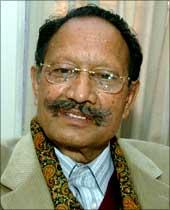 Dubbing as "unusual and uncalled for" the hue and cry in the BJP over its poor performance in the Lok Sabha polls, senior leader B C Khanduri has said the party should have gone into the reasons behind its defeat before removing him as Uttarakhand Chief Minister.
"But this was not done," rued Khanduri, who became the first victim after the party lost at all the five Lok Sabha seats in the state.
He also said the party should have reviewed its electoral performance with a reasonable mind and whatever action it had to take, it should have taken after proper analysis. Khanduri said the atmosphere of hopelessness after the party's poor performance in Lok Sabha polls was uncalled for.
"It is not that the party has been ruined. It has secured 116 seats in the Lok Sabha this time. The position of Congress in 1996 was worse,' he said.
Asked why he was not invited for the BJP's Chintan Bhaithak in Shimla, Khanduri said, "It is not an issue. The issue is that before taking any action views of all concerned should be elicited."
The leader said he was ready to shoulder any responsibility given by the party "as, even today, people trust BJP more".
About the style of functioning of Ramesh Pokhriyal Nishank, who took over the reins of the state from him, he said, every person has his own style of working.
"I hope the schemes launched in my time are carried forward and new ones initiated for development of the state."