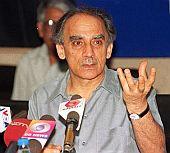 As the Bharatiya Janata Party grappled with dissensions, the Rashtriya Swayamsevak Sangh on Tuesday said it will not intervene in the saffron party's affairs and the party will have to 'analyse' the developments and take the right decision.
"I want to say this clearly that it is not the job of the RSS," its spokesman Ram Madhav told reporters a day after senior BJP leader Arun Shourie demanded that the Sangh take over the reins of the BJP.
Madhav said the RSS would provide 'help and advice' to the BJP "but the political work has to be managed by them".
Referring to Shourie's contention that the BJP leadership had been unable to handle the situation, the RSS spokesman said, "Whatever is there, it is their work to think about it".
"The job of analysing and taking the right decision is the party's discretion, not ours," he said.
Asked if the RSS was worried over the recent developments in the BJP, he said, "The views of the RSS has already been voiced by our chief (Mohan Bhagwat). He also outlines what the organisation expects from its swayamsevaks. We don't need to make special comments".