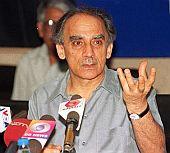 Senior Bharatiya Janata Party leader Arun Shourie raised the banner of revolt against the beleaguered leadership by demanding that the Rashtriya Swayamsevak Sangh take over the party and change its top brass lock, stock and barrel.
He also virtually dared the party to take action against him but said if it did it, 'they are only killing the messenger'.
Joining the ranks of dissidents in the party, which is reeling under internal dissidence after the Lok Sabha defeat, the journalist-turned-politician, who was a minister in the Vajpayee government, hit out at party president Rajnath Singh calling him an "Alice in Blunderland" and that the party was a kati patang (kite without a string).
'In my view, the BJP is a kati patang. Unless it is got hold of swiftly by -- I don't see people within the party who now have such authority -- if anybody can do it, it is only the RSS (that can do it),' he told NDTV.
He later told reporters that like once Mao Ze Dong had said, 'Bombard the headquarters. Clean up everybody from the top. Bring ten-fifteen people from the states who are competent, honest and dedicated and reconstruct immediately.'
Shourie said what was happening in the party now was that raising questions has become indiscipline.
"Those who have brought about this situation and brought about the party to this pass, they are the fellows who are hurting the party's interest. They were planting stories for the past five years against each other, including Advani and Rajnath Singh. Is this discipline," he asked.
The former Disinvestment Minister said the party is an important institution and the leadership did not listen to what was said or did not do anything after agreeing with what is being said.
The party was being run like a private company in which top leaders were indulging in mutual projection and mutual protection. Leaders like B C Khanduri and Vasundhara Raje were being asked to resign as part of accountability for the defeat but the top leaders would not resign because they have already "owned up responsibility".
Asked whether Advani should go, Shourie said removal of one leader is not enough. "My prescription is jhatka (one swift execution) not halal (slow execution). One or two is not enough. Saare ke saare (lock, stock and barrel). The current leadership cannot be expected to change the situation -- There should be total transformation."