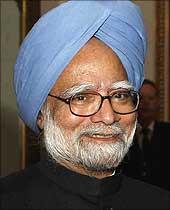 Pakistan on Monday said Prime Minister Manmohan Singh's remarks, about terror groups planning fresh attacks on India from Pakistani soil, were uncalled for as the two countries were progressing towards better relations.
"I think (Dr Singh's) statement was uncalled for and it would have been better if he had not made such a statement because Pakistan and India are moving towards better relations, especially after the meetings (between the Indian premier and President Asif Ali Zardari and Prime Minister Yousuf Raza Gilani)," Minister of State for Information Sumsam Ali Bukhari said.
 "As Pakistanis, we would not want any problems to occur anywhere. We are ourselves victims of terrorism," Bukhari told reporters in Karachi in response to a question about Dr Singh's remarks. Pakistan wants to work with the international community to tackle terrorism and militancy, he said.
"Whether it is our neighbours or distant countries, we want peace in the whole world. Islam is a religion of peace and gives a message of peace," he added.
Earlier in the day, Dr Singh had stated that terror groups in Pakistan are planning fresh attacks in India.
Addressing a conference on internal security in New Delhi, Dr Singh had said, "There is credible information of ongoing plans of terrorist groups in Pakistan to carry out fresh attacks."