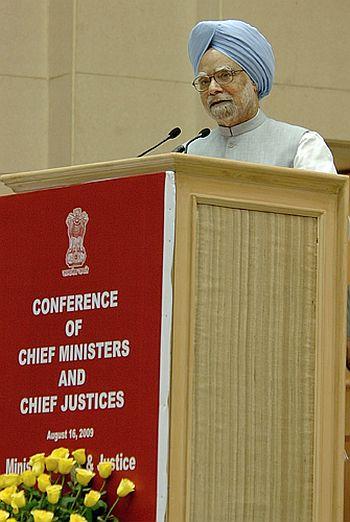 The Centre on Monday observed that the gravity of the threat of terrorism was undiminished and that the nation could not afford to lower its guard.

Addressing a conference of chief ministers in New Delhi, Prime Minister Manmohan Singh said, "We have put in place additional measures after the Mumbai terrorist attack in November last year. But there is need for continued vigilance. There is credible information of ongoing plans of terrorist groups in Pakistan to carry out fresh attacks," the prime minister said.

"The area of operation of these terrorists today extends far beyond the confines of Jammu & Kashmir and covers all parts of our country," he added. 

"In dealing with the terrorist challenge we need to be prepared for encountering more sophisticated technologies and enhanced capabilities. We also need to guard our sea frontier as vigilantly as our land border." 
"Four regional hubs of the National Security Guard have been established and operationalised at Mumbai, Kolkata, Chennai and Hyderabad. Two Regional Centres of the NSG will shortly be established at Hyderabad and Kolkata. A National Investigative Agency has been established. I request the chief ministers to extend all possible cooperation to this Agency to make it a truly effective instrument in our fight against terrorism."

"Quick Response Teams and Special Intervention Units are being set up at the state level to enhance the speed of response to terrorist attacks. A major effort is being made to improve Intelligence gathering and dissemination both at the Central and State levels."

"A well-calibrated Coastal Security Scheme is being put in place. But we obviously need to do much more and we shall. The challenges posed by asymmetric warfare and terrorism as also the Left wing extremism can only be met through new ideas and more resolute actions and determination. We need to be ahead of the curve if we are to succeed as we must." 
On Naxal menace:
"There have been heavy casualties inflicted recently on security forces by naxalite groups. There are also indications of yet more offensive action by these groups. The problem of Left wing extremism is indeed a complex one. There is a need for a balanced and nuanced strategy to deal with it."

"On the one hand, the State should discharge its responsibilities and obligations and re-establish the rule of law in areas dominated by the Naxalites. At the same time, we should work towards removing the causes, which lead to alienation of people and problems like Naxalism," Dr Singh said.
On the situation in Jammu and Kashmir:
"The situation in Jammu & Kashmir has, during the past few years, seen substantial improvement. Figures of violence have been steadily declining and are today at an all-time low. But there are some disturbing trends on the horizon," the prime minister said.

"Levels of infiltration which had come down very substantially have seen a surge this year, alongside an increase in attempts at infiltration. The infiltrators appear more battle-hardened, better equipped, and in possession of sophisticated communications," he added. 

"There are also signs of a revival of over-ground militant activities. Attempts are being made to link isolated and unconnected incidents -- such as those, which occurred in Shopian, Sopore, Baramulla -- to create an impression of a groundswell of anti-national feeling. All this shows that efforts to disturb the current status quo have not been given up. Fortunately, the annual Amarnath Yatra passed off without incident, a tribute to the secular character of the people of J&K."
On the situation in northeast India:
"There is an overall improvement but the situation in some northeastern states particularly in Assam, Manipur and Nagaland remains problematic and worrisome. Assam and Manipur account for a disproportionately large number of violent incidents reported from the northeast, with the latter's share being as high as 30%. In Assam, the Centre had sanctioned an amount of Rs. 750 crore for development of Bodo areas. But the utilisation of these funds remains unsatisfactory."

"The resettlement and rehabilitation of those affected by the violence in the Bodo areas and North Cachar Hills is a matter of concern. Manipur is plagued by a large number of militant outfits. The government of Manipur needs to put in place appropriate mechanisms for increased participation of people in developmental projects." 

Requesting the chief ministers of all the northeastern states to pay particular attention to the implementation of infrastructure projects, Dr Singh said, "There is also a need in the northeast for more emphasis on pro-active state police forces rather than exclusive reliance on the central paramilitary forces and Army. The resources for policing need to be enhanced substantially. Manipur has increased the number of sanctioned posts at the police station level but a large number of them remain unfilled."
"All states in the northeast would do well to ensure the representation of all groups and communities in their police forces and carry out recruitment to these forces in a transparent manner."
On maintaining communal peace:


"As far as the communal situation is concerned, we have reasons for satisfaction. In the past five years, no serious communal incidents have occurred. But some states like Maharashtra and Karnataka need to exercise greater vigil to maintain communal peace," Dr Singh noted.

"Karnataka, in particular, has witnessed a number of communal incidents during this year. What is more worrisome is that the incidents were not limited to one or two districts. Like in other areas of internal security, we must all be on our guard against attempts by communal fanatics to accentuate communal tensions, disturb the peace and weaken the fabric of our inclusive society."
On Centre-state partnership:
"We are all aware that most issues pertaining to internal security require a coordinated response by the Centre and the states acting in concert. The importance of this cannot be over-emphasized. A piece meal approach will simply not work given the nature of challenges we face. Not only do we need more information sharing, we also need synchronized action. Let me assure all the states that the Centre will not be found wanting in this regard."

"We are committed to assist the states in all possible ways in dealing with the challenges of internal security. We will also do our utmost in facilitating inter-state coordination. I would urge states to take more initiative for coordinating action with other states." 

"I do recognize that states often face constraints of resources. But ultimately we must all bear the burden of our shared sense of responsibility. It must also be recognised that there are limits to what the central government can provide. I hope that the expectations of the states from the Centre would be guided by a consciousness of their own obligations as well as a sense of practical realism." 

Image: Dr Singh address the CMs conference in New Delhi
Photograph: Press Information Bureau