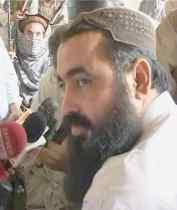 Pentagon on Wednesday said there is a 90 per cent certainty that Pakistan Taliban leader Baitullah Mehsud is dead and it is operating under the presumption that the top militant is no longer a threat to the people of the region. Pentagon spokesman Jeoff Morrell said the Taliban has not been able to provide any evidence contrary to this viewpoint.
"We are operating under the assumption -- and it's not just an assumption. Obviously, we have intelligence that would lead us to believe that there is a 90 per cent certainty that he is no longer living," Morrell told reporters.
"There is a 90 per cent certainty at this point that, indeed, Baitullah Mehsud has met his demise," he said. Defence Secretary Robert Gates and others in the government were operating under the assumption that Mehsud was no longer a threat to the Pakistani people, Morrell said.
When referred to the claims made by some Taliban leaders about Baitullah Mehsud still being alive, Morrell said, "If they really wanted to convince anybody that Baitullah Mehsud was still alive, they would probably do as many people do, which is offer some sort of proof of life, but I don't think that they are in a position to do so."