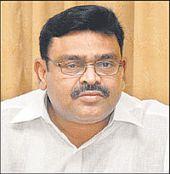 The battle between Andhra Pradesh Chief Minister K Rosaiah and Jaganmohan Reddy, the Congress MP from Kadapa, has taken a new twist.
In the last three months, the state Congress party has twice issued warnings to leaders who have spoken out against the chief minister.
Crying foul,
Ambati Rambabu
, who was suspended from the Congress last month for open defiance of that edict, has lashed out at his party in defence of Congress legislator Konda Surekha.
Konda was issued a show-cause notice for taking on the party leadership and resigning from her post to protest against the Congress leadership's reluctance to appoint Jaganmohan Reddy, the late chief minister Y S Rajasekhara Reddy's son, as his successor.
In an interview with
Rediff.com
's
Vicky Nanjappa
, Rambabu declares there is a conspiracy against Jagan, his family and his supporters.
You have done it again. Despite your suspension, you have spoken against Mr Rosaiah.
There is no hard and fast rule which says I am not supposed to question the chief minister.
The Congress is a democratic party with its own constitution and it does not state anywhere that we are not supposed to question him.
Why is there 'special treatment' only for those -- who are in the eyes of the public -- Jagan followers?
I don't know. I personally feel there is a conspiracy against all supporters of Jagan.
Of late, there has been action being taken against all those who are speaking in Jagan's favour. This is something that Rosaiah alone can answer.
Will Jagan launch a new party?

There is no such plan. I really cannot speak on his behalf.
He is touring at the moment and I can say for now there is no plan of breaking away from the party.

He wants to be with the Congress and has no aspirations for the chief minister's post. He wants to work for the party.
Everybody in the party knows that he is the future and he is the hope.
There is not a single leader, leave alone in the Congress, in Andhra Pradesh, who has the charisma that Jagan has.

He has more charisma than (movie superstar-turned-politician) Chiranjeevi and (Telugu Desam Party leader) Chandrababu Naidu. He is the hero of the Telugu-speaking people.
Do Jagan's supporters like you have a plan to counter Mr Rosaiah?

No, we have no such plan of breaking away from the party. There is no plan for a counter strike either.
Even my suspension was something that was only announced in the press.
Till date I have no official communication on this.
Do you think Mr Rosaiah is insecure? Does he fear that he will be toppled as chief minister?

He is not insecure and neither is he scared of anybody or anything.
I have no idea why he is behaving like this. He does not need to be scared of anything as he has the blessings of the high command.

On one hand he lays the foundation stone to commemorate YSR's death anniversary and on the other he conspires against the same family.
Is it due to some personal enmity?
As far as I know, there is no enmity whatsoever.
I have asked him the same question many times, personally and in public forums. He does not answer.
But sometimes when I study the trend, I see a change in the man. He was alright before YSR's death, but now he has changed a lot.
I have only criticised him politically for which there is no bar. He need not have taken action against me for that.
It is clear that there is a split in the Congress party...

There is no split and there is no scope for one.
There have been such instances in the past too, but the party has always stuck together.
But all we get to see is press statements against the other camp.
It is part of politics. Every party member knows that the high command has to be respected.
The high command has given its backing to Rosaiah and all MLAs will abide by that.
Do you or Jagan want Mr Rosaiah to continue as chief minister?

Again, I cannot speak for Jagan. Personally, I have no problem.

However, he should continue to enjoy the blessings of the high command.
Initially, none of the MLAs supported him. But when the high command stuck by him, all MLAs had to follow suit.
You said your party is democratic. Is that really the case? People get suspended for speaking out 'politically' against one another.

Some events in the past have been undemocratic. But the party is and will remain democratic.
The Congress itself is a party with a history and has its own constitution. Everything will fall in place.

Take my expulsion, for instance. Although I have a lot of respect for (Union Lwe Minister and the Congress leader in charge of Andhra Pradesh) Veerappa Moily, he does not have the right to expel me from the party since I have not done anything undemocratic.
Why this special treatment today?

In the past I have criticised chief ministers like Marri Chenna Reddy, N Janardhan Reddy and Kotla Vijaya Bhaskhara Reddy. No action was taken against me then.
I want to know why the high command is being selective this time around.
Has the Jagan factor made the party undemocratic?

I don't know what problem they have against him. He is not a competitor to Rosaiah and vice versa. He is not seeking the chief minister's post.

As I said earlier, Rosaiah has poisoned the mind of the high command and is trying to neutralise Jagan's supporters.

This has to stop, otherwise his (Jagan's) patience will be tested.
Rosaiah is an elderly person and has vast experience. But I must also add that he has a petty heart.
Also read: Rambabu's earlier interview with Rediff.com
'Majority of Congress in AP is with Jagan'
Thousands turn up for Jagan's yatra
Over 100 Congress MLAs want YSR's son to be CM