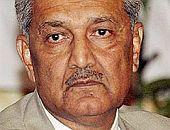 The Pakistan government's plea to restore security protocol for nuclear scientist Dr Abdul Qadeer Khan has been rejected by the Lahore High Court.
The two-member division bench of Justice Nasir Saeed Sheikh and Justice Khawaja Imtiaz Ahmed also dismissed an application by the government seeking a clarification by Khan over his statements to the foreign press regarding providing nuke know-how's to other countries.
Khan's lawyer, Ali Zafar, said the court's decision is in line with the law and that there was no reason to prevent Khan from moving freely inside the country.
"The court also served contempt notices and directed the government not to detain AQ Khan under the garb of providing security," The Daily Times quoted Zafar, as saying.
Zafar had earlier argued that under Article 9 of the Pakistan constitution, every citizen's fundamental rights of liberty and free movement should be guaranteed and the government was not authorised to restrict any individual under the garb of providing security.
It is pertinent to mention here that Khan had challenged his official protocol, terming it a violation of his fundamental rights, following which the Lahore High Court directed the concerned authorities to remove all restrictions on his movements.
However, under much international pressure, the government appealed against the court's directives, which saw the court put a stay order on the verdict.
Image: A Q Khan