The two warring cousins, Uddhav and Raj Thackeray, have a new ally in their effort to put the record straight: The media.
Never known to mince words when taking the media head on, Raj Thackeray showed the glimpse of a changed man at a press conference on Monday to declare Bala Nandgaonkar as the Maharashtra Navnirman Sena's leader in the state legislative assembly -- and also to introduce the party's newly-elected representatives.
Close on the heels of Uddhav Thackeray's press conference on October 26 to showcase his newly elected legislators and talk about the Sena's showing in the assembly election, it was his cousin Raj's turn to flaunt his 12 MLAs -- Harshavardhan Jadhav from Kanad could not make it on time as he was on his way back from Vaishno Devi and his plane from Delhi was delayed.
That Raj answered many media queries despite a bad throat infection only goes on to prove his newfound love for the media. In fact, he expressed an apology -- quite uncharacteristic Raj Thackeray style -- about his late arrival at Bandra's MIG Club.
For a press briefing that was to start at 1 pm, Raj turned up almost 20 minutes late as he had to attend the funeral of a party worker's mother. However, his band of legislators had trickled in a bit earlier.
While Uddhav has always been kn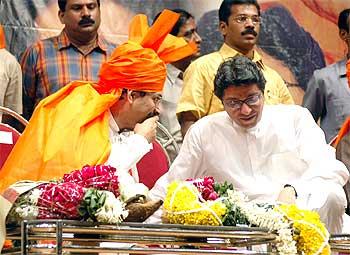 own as a smart media manager -- it is said he remembers the names of most journalists who have interacted with him personally -- Raj, now that he has the responsibility of herding 13 party legislators, is fast learning the ropes.
No doubt old-time Shiv Sena warhorses Bala Nandgaokar and Shishir Shinde, who joined the MNS and successfully contested the assembly election from Sewri and Bhandup respectively, ably assist Raj in his media management.
Despite a bad throat, the MNS chief answered media queries that "were strictly related to the MNS." This yet again has fuelled speculation that Raj is possibly trying to build bridges with cousin Uddhav as he has practically adopted a "no comments" stance when reporters ask him about the Shiv Sena. The attack is more on the Shiv Sena's shortcomings and bad policies and not on individuals.
The pre-election campaign dust has now settled down and the two cousins are aware that they will need each other's support to put the ruling coalition on the mat on the floor of the House.
The real test begins the day the 288 elected representatives will take the oath of office administered by Maharashtra Governor S C Jamir sometime soon. Raj announced that his party legislators will take the oath in Marathi and even force other MLAs into doing the same. Read Abu Asim Azmi, the Samajwadi Party MLA who won from the constituencies of Bhiwandi and Mankhurd and has publicly stated that he will take the oath in Hindi.
Monday's press conference, in a way, has once again swept the ground from under the Shiv Sena's feet in setting the tone of the new assembly. Sena legislators will fall flat if they don't support the MNS in its bid to "elevate the self-respect of the eight crore population of Maharashtra."
Both Raj and Uddhav know well that they have to rope in the media as their ally in the effort to project their parties's pro-Marathi manoos stand. While Uddhav was angered by a journalist's question at the October 26 press meet (though he later apologised), Raj showed how media savvy he is by making an exit with hordes of cameraman ever hungry for more of Raj Thackeray footage.
Interestingly, unlike the press conference that was arranged immediately after Chhat Puja last year, this time there was no security cordon around Raj as he mingled freely with the media. It's altogether a different thing that his media managers will have to pay more heed to his security arrangements as nobody frisked or checked all those who entered the hall.
In his attempt to be media savvy Raj and his security arrangers seems to have all too soon forgotten the Rahul Raj incident where a 23-year-old Patna resident had come to deliver a message to Raj Thackeray and was shot by the police after he had held a local bus hostage.
What's more, both Uddhav and Raj tried smartly to upstage each other in the run-up to the assembly election as both became readily available to major English news television channels to espouse their respective causes. It's altogether a different thing that Raj upstaged his embattled cousin as he stuck to his guns and spoke only in Marathi thereby manipulating the media to create an image of the Marathi Hridaysamrat.
What was more interesting was that the two cousins spoke only to the editors in charge of the two news channels, thereby creating an image that they can bring Delhi to Mumbai and it was Delhi that needed Mumbai more than the other way round.
Be that as it may. While there is no doubt that the two cousins have used their political acumen to manipulate the media to further their gains, I sometimes wonder that the exact opposite is equally true.
If the Thackeray cousins love the media, the media too adores the two bespectacled Thackeray scions, who in their bid to espouse their Marathi manoos agenda, have become an easy bait for a medium that depends for its survival on high TRPs and ad revenues.
Image: Uddhav and Raj Thacekray before they split at a Shiv Sena gathering at Shanmukhananda Hall, Mumbai. Photograph: Sahil Salvi