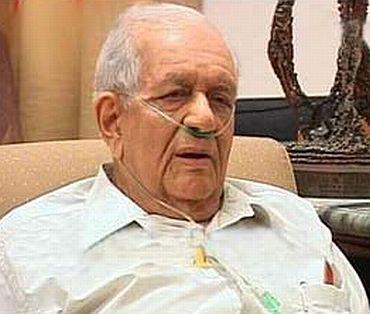 Dr Homi Nusserwanji Sethna will be remembered as doyen of the Indian nuclear programme and the force behind the country's first nuclear test.
Sethna, a tough taskmaster, took over as chairman of Atomic Energy Commission and Principal Secretary to Government of India at a crucial time following the demise of Dr Homi Bhabha and Dr Vikram Sarabhai.

He was entrusted with the job to execute the unfinished task envisioned by the Dr Bhabha.
A nuclear scientist and a chemical engineer, Dr Sethna was pioneer in establishing India's first reprocessing plant in 1959. India's first nuclear test was possible because of the Plutonium from this plant when the country was under tremendous pressure to sign the nuclear non-proliferation treaty by the United States.
By persuading the then Prime Minister Indira Gandhi, he successfully completed the first peaceful nuclear explosion project 'Smiling Buddha' at Pokhran on May 18, 1974 along with his colleagues Dr Raja Ramanna and Dr P K Iyengar. Born on August 24, 1923 in Mumbai, Dr Sethna completed his graduation (BSc Tech) from University of Mumbai and went to Michigan to do MSE.
He had also received Honoris causa from various Indian universities including Indian Institute of Technology, Delhi in 1992.
A fearless, 'no nonsensical' man, Sethna had to carry on with the nuclear programme in the challenging backdrop of sanctions posed on India and a technological denial regime.
His colleagues today fondly remember him as a patriot who always upheld the honour and integrity of the country.
Dr Sethna joined ICI in Manchester as a trainee under Tata-ICI scheme and came back to India to join Indian Rare Earths (IRE) Limited in Kerala, a PSU which marked the beginning of exploitation of nuclear material in India.
Consequently, he completed the construction of Thorium Plant at Trombay and the plant for production of nuclear grade uranium metal. The Padma Vibhushan awardee also had the assignment of project managership of a 40 MW research reactor (CIRUS) during its formative years during the period of his directorship at IRE.
In 1959, he joined the Atomic Energy establishment at Trombay (now known as Bhabha Atomic Research Centre) as its chief scientific officer and later became Director of the Engineering Group with the responsibility of designing and constructing the Plutonium Plant (reprocessing plant) completed in 1964 and concurrently the Uranium Mill at Jaduguda in Jharkhand which was completed in 1967.
Recipient of several awards, Sethna was a Deputy Secretary General to the United Nations International Conference on Peaceful Uses of Atomic Energy held in Geneva in 1958.
He was also a member, UN Scientific Advisory Committee and held Chairmanship of several institutions including Fertiliser Corporation of India, Electronic Corporation of India.
He also held directorship of public limited and private limited companies. Sethna is survived by a son and a daughter. His wife, a medical doctor, passed away recently.