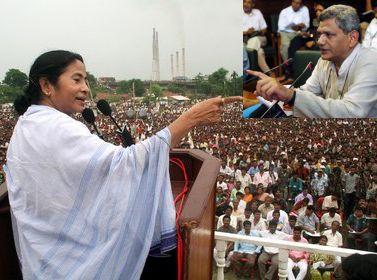 Trinamool Congress Chief Mamata Banerjee has 'insulted' the people of West Bengal by not attending the funeral of Marxist stalwart Jyoti Basu, Communist Party of India-Marxist leader Sitaram Yechury said on Thursday.
"By not attending (the funeral) and justifying her absence, she has insulted the people of Bengal who turned out in lakhs. Now they will have to decide," he told media persons when asked to comment on the Railway minister's absence at the funeral on Tuesday.
He said despite serious political differences, it was a culture not only in India but abroad as well that "you are present on such occasions. It is also elementary human decency and a matter of courtesy and political morality".
The fact that so many people turned out in such large numbers reflected the popularity of the great leader, he added.