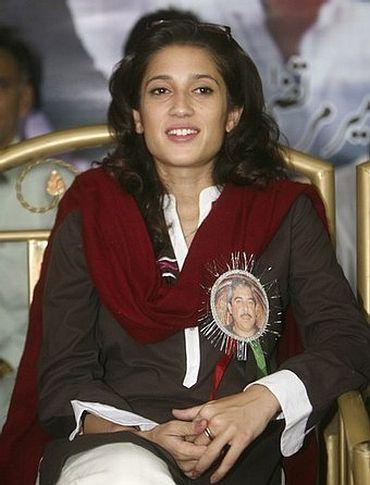 Fatima Bhutto, the outspoken niece of slain former Pakistani premier Benazir Bhutto, says her tell-all tome on the Bhutto dynasty will "frighten" those in power in the country.
Fatima held the first launch of Songs of Blood and Sword: A Daughter's Memoir at Clifton Gardens at the exact spot in the port city of Karachi where her father Mir Murtaza Bhutto was killed nearly 14 years ago.
Without taking the name of her aunt Benazir's widower President Asif Ali Zardari, Fatima said the man who orchestrated the killing of her father is currently leading the nation.
"The streetlights went off and roads leading to 70 Clifton were blocked by heavy contingents of police who were waiting to kill my father," she said describing the scene of her father's death.

Fatima, the granddaughter of late premier Zulfikar Ali Bhutto, said her book will "frighten" those in power.

She also said that her grandfather's name had been hijacked.
She said police officers and other people charged with her father's murder have been released due to flaws in the system and have won national medals.
Police gunned down Murtaza Bhutto and six of his supporters outside his home in September 1996.
He was then estranged from Benazir, who was the Prime Minister, and police officials claimed Murtaza was killed in retaliatory firing by policemen after his guards opened fire.
Murtaza's supporters said he was shot dead by the police without any provocation.
At the launch of her book, Fatima was flanked by her stepmother Ghinwa Bhutto, brother Zulfiqar Bhutto Junior and cousin Sassi.
Relatives of her father's associates, who were murdered with him, were present at the ceremony. Her friend Sabeen Jatoi, whose father Ashiq Jatoi was killed along with Murtaza, conducted the proceedings.
"There are people who will go to no end to put a stop to this book," Fatima said.
She said the title of the book came from a poem that was written by leftist Iranian poet Khosrow Golsorkhi, who was persecuted and hanged by the Shah of Iran for his stand against corruption and hypocrisy.