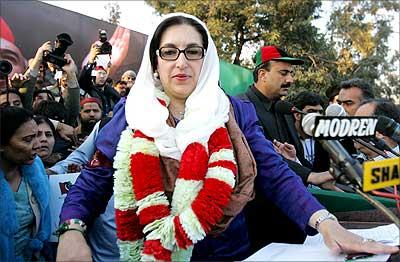 People across Pakistan on Sunday paid tributes to slain former premier Benazir Bhutto and offered special prayers on the second anniversary of her assassination even as her close aides called on the PPP-led government to identify and bring her killers to justice.
The Pakistan People's Party organised special meetings and prayers in cities and towns all over the country, including Bhutto's ancestral town of Naudero in Sindh province, to commemorate her death anniversary.
Bhutto's widower President Asif Ali Zardari, who is rarely seen in public, travelled to Naudero to participate in meetings.
Zardari and his children – Bilawal, who is chairman of the PPP, Bakhtawar and Asifa – reached Naudero late last
night. Bilawal and his siblings visited the graves of members of the Bhutto family at a mausoleum in Garhi Khuda Baksh amidst tight security arrangements.
They visited the graves of their mother Benazir, grandfather Zulfiqar Ali Bhutto and uncles Mir Murtaza and Shahnawaz and laid floral wreaths and offered 'fateha' or special prayers for the dead.
Prime Minister Yousuf Raza Gilani and several federal ministers paid tribute to Bhutto at her mausoleum in Garhi Khuda Baksh in Sindh this afternoon. They laid a 'chadar' and showered flowers on her grave before offering 'fateha'. 
Gilani said the best way to pay respect to Benazir Bhutto was to carry forward the mission undertaken by her and her father.
The constitution of 1973 framed by Zulfiqar Ali Bhutto will be restored to its original form and the government will take all measures to strengthen the federation through politics of reconciliation.
The UN probe into the killing of Benazir Bhutto, who was assassinated by a suicide bomber after addressing an election rally in Rawalpindi two years ago, had been extended by a month and the facts uncovered by it would be presented to the country, Gilani said.
However, some of Bhutto's close aides said the PPP's credibility would be affected if it failed to come up with a credible report on her killing.
"I believe that it would be quite harmful for the PPP if it fails to bring the people behind (Bhutto's) murder to justice," said PPP leader Safdar Abbasi, who was with Bhutto at the time of her death.
Besides the UN probe, the Federal Investigation Agency is also looking into Bhutto's assassination but has been unable to trace the perpetrators, financiers and mastermind behind the killing.
Reports have also suggested that the government has refused to give the UN probe commission access to top military officials, including army chief Gen Ashfaq Parvez Kayani.