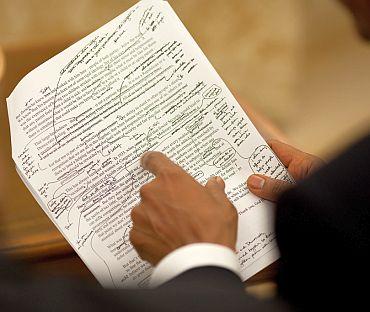 United States President Barack Obama's speeches are widely popular. However, a lot goes into framing the right words for the right occasion.
Jon Favreau is the guy Obama turns to for expressing his thoughts into speech text. The 28-year-old pockets a cool $172,000, putting him right up there with the members of Obama's inner circle, including Chief of Staff Rahm Emanuel and Press Secretary Robert Gibbs.
This image dated Sept. 9, 2009 shows President Obama and head speechwriter Jon Favreau (both not in picture) editing a speech on health care in the Oval Office, in preparation for the president's address to a joint session of Congress.
Photograph: White House Photo via Flickr