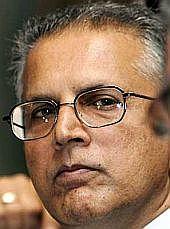 The Bharatiya Janata Party on Friday regretted that Home Secretary G K Pillai was not 'defended' by External Affairs Minister S M Krishna when he was 'openly castigated' by Pakistan's Foreign Minister Shah Mahmood Qureshi for his remarks that the Inter Services Intelligence had coordinated the 26/11 Mumbai terror attacks.
The Congress on its part described as ridiculous any attempt by Pakistan to equate Pillai's remarks with Jamaat-ud-Dawah chief Hafiz Saeed's anti-India hate speeches.
"The foreign minister of Pakistan chose to attack India's home secretary. I regret he was not defended there by India's foreign minister," BJP spokesman Ravi Shankar Prasad said, a day after Qureshi's unexpected attack on Pillai at a joint news conference with Krishna after their talks in Islamabad.
Congress spokesman Abhishek Singhvi said, "The home secretary was simply making a statement of fact about what India's stand has been, it is only India's stand. I don't think there is any basis for comparison of statements by Hafiz Saeed or Salahuddin with the home secretary. That would be ridiculous."
Singhvi also noted that Krishna has not confirmed Qureshi's remarks that both the ministers were of the opinion that Pillai's comments on ISI's role in 26/11 were "uncalled" for.
Prasad while offering his preliminary comments on the outcome of the Indo-Pak talks said Qureshi was making an issue out of Pillai's statement, which was nothing but a statement of Lashkar-e-Tayiba operative and Pakistani-American David Headley about the role of ISI in Mumbai attack.
Headley has confessed to his involvement in 26/11 and is currently in Federal Bureau of Investigation's custody in Chicago in the United States.
"They have no reply or content but they are comparing it (Pillai's remarks) with Hafiz Saeed without taking any action," Prasad said.
Qureshi when asked at the joint press conference last night at the end of the talks why Saeed was not being reined in by Pakistan from making anti-India speeches shot back: "I agree that both sides need to create an enabling environment and not let the climate of engagement be vitiated by negative propaganda. But, I want to know to what extend did the Indian home secretary's statement on the eve of this dialogue help? We both (minisers) are of the opinion that it (Pillai's remarks) was uncalled for."
Qureshi's criticism was noteworthy as it was in response to a question on the anti-Indian rhetoric of Saeed and he cited Pillai's comments as a counter.
Krishna's silence when the Pakistani minister attacked Pillai has raised eyebrows. Pillai had earlier this week blamed Pakistan's powerful Inter Services Intelligence agency for "controlling and coordinating" the Mumbai terror attacks in 2008 "from the beginning to the end".
Image: Home Secretary G K PIllai