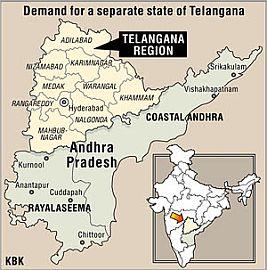 Is the Telangana Joint Action Committee, formed to take the separate Telangana movement forward, heading for a split? The resignation issue has upset a majority of the Congress leaders, who are part of the Telangana JAC, and they have threatened to pull out of it.


We are ready to carry forward the battle, but the JAC should not insist on our resignations, a Congress MLA, who is part of the Telangana JAC, told rediff.com.
"What is the point in resigning? The JAC, during the last meeting, had insisted that all MLAs, MPs and representatives (even from the local level) tender their resignations. If this happens, the Congress government in the state will definitely fall. Once the government falls, there will be no way we can form the separate Telangana state," the Congress leader said.

Meanwhile, the JAC is tight lipped on the developments. One JAC member told rediff.com that they are still in talks with Congress legislators, who have refused to resign.
The Congress leaders, however, are adamant about their stand and say that there is no way in which they can be pressurized to resign.

We don't mind if the JAC breaks, but we will not agree with the committee's call to resign, they say, adding that if their government is reduced to a minority (following the resignations), President's rule will be imposed in the state.

We are in no way suggesting that we don't want a separate state or want to delay the process. All we are trying to say is that the we want to be in power and ensure that the state is formed and if the Andhra Pradesh government falls now, that will be the end of the Telangana dream. We want to achieve this dream by way of talks and peaceful discussion, the Congress leaders point out.
The issue pertaining to the resignations began during the last meeting of the JAC. Though initially some Congress leaders had staged a walkout over the issue, JAC members later convinced them to come back. It was decided that they would be given some more time to think about the resignations. The deadline for the resignations was then fixed for January 28.